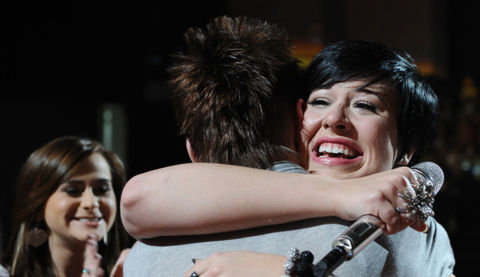 Erika Van Pelt's elimination last night on American Idol 2012 may have been semi-expected for most of us, (I was still holding out hope for a "Whip My Hair" performance by DeAndre) but Erika took it pretty tough. Could you blame her?
Van Pelt was up early this morning for her post-Idol elimination interviews and she told her home state news just how she was feeling. Spoiler: not so good.
South Kingstown's Erika Van Pelt, eliminated from "American Idol" on Thursday night, described herself Friday morning as "still devastated" and "reeling" from the abrupt end to her tenure on the show.

Speaking on FOX Providence TV's "Rhode Show," the 26-year-old onetime karaoke singer also expressed her appreciation for Rhode Island's backing during her run, including a show-watching — and voting — party at Warwick Mall.
Erika did close out on a very positive note though when she mentioned she was looking forward to the summer American Idol Tour. Van Pelt will also continue to have her past three Idol performances available on iTunes.
Best of luck out there for Erika in the post American Idol showbiz world. She's clearly a very talented singer.