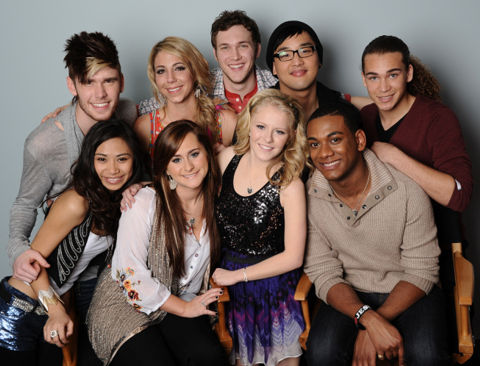 Meet your American Idol 2012 Top 9 singers! There may be a lot of frustration and disappointment over last night's Top 10 elimination results, but the show presses on to its May finale where only one singer can be crowned the winner. Erika Van Pelt fans will still be able to catch her this summer when she tours North America with the rest of Season 11's Top 10 performers.
Next week should pick up a little more on American Idol with a wide open song selection based on the singers' favorite performers. FOX's press release actually capitalized idols when mentioning the Top 9 would "sing songs from their own Idols" which makes me think they'll be picking from past AI winners/performers. We're nearly getting to the point that some of the Hopefuls could perform songs by the winner from the year they were born!
American Idol 2012 Top 9 Finalists:
DeAndre Brackensick
Hollie Cavanagh
Colton Dixon
Heejun Han
Skylar Laine
Joshua Ledet
Phillip Phillips
Jessica Sanchez
Elise Testone
Let us know who is your favorite singer from the American Idol Top 9.