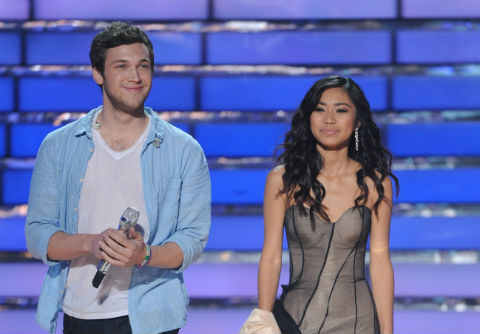 Tonight the American Idol 2012 two-part finale kicked off with the Top 2 facing off for the final vote of the season. It was a Jessica Sanchez vs. Phillip Phillips showdown and neither American Idol contestant backed down.
Like the rest of the season, I'll review each performance and assign the letter grade I think each deserved.
Round 1: Simon Fuller's Pick
Jessica Sanchez, "I Have Nothing." This wasn't the Whitney Houston song I expected to hear from Jessica tonight. I was creation we'd hear her do "I Will Always Love You Again," but I was wrong. Oh well, this performance was a great way to start the night. I would have preferred a better Whitney song, but Jessica handled it very well. (A)
Phillip Phillips, "Stand By Me." I'm pretty sure I recommended this for Phillip one time or another, so I was very happy to actually hear him do it. I really liked the arrangement too. It was just different enough for Phillip to make it his own. He owned it like he always does. It went from a Ben E. King song to a Phillip Phillips song. (A+)
(My Winner of Round One: Phillip. But just barely.)
Round 2: Contestants' Favorite Song of the Season
Jessica Sanchez, "The Prayer." Now this is a season finale song. Jessica first and this during Top 24 week and it was the performance that put her in the Top 13. She did an even better job with it tonight. It was definitely a performance that showed she meant business tonight. (A+)
Phillip Phillips, "Movin Out." Really, Phillip? This was your favorite performance of the season? Are you trying to lose this contest? What about "Volcano"? Or "In The Air Tonight"? Or "We've Got Tonight"? I mean this wasn't a bad performance. It just wasn't finale worthy, especially compared to Jessica's performance. (B +)
(My Winner of Round two: Jessica)
Round 3: Finale Song
Jessica Sanchez, "Change Nothing." More like change everything. What an awful song. Not only were the lyrics bad, they were all wrong for a 16-year-old. And the key wasn't right. Nothing was right about it. Jessica still sang it wonderfully. But that was that. She just didn't connect. Just a bad song choice. I at first thought she didn't pick it and couldn't be blamed, but she made it sound like she picked it. So… yeah. (B)
Phillip Phillips, "Home." The complete opposite of Jessica's song, this was the perfect song for Phillip. It was right in his range, the lyrics were great and the song had a great hook. He connected with the song. There was emotion. And even the "aaaaahs" were right on. It was like Jonny Cash meets Coldplay. And that's a sound I've never heard before. Great finale song. Great finale performance. (A+)
(My Winner of Round 3: Phillip. Hands down)
So who is going to win American Idol 2012? If you based it on my letter grades, it would pretty much be a deadlocked tie. But if you go with history in addition to tonight's performance, then Phillip Phillips is your new American Idol. If I were a betting man, I'd put all my money on Phillip.
Who won the night for you? Who is going to win the title tomorrow night?