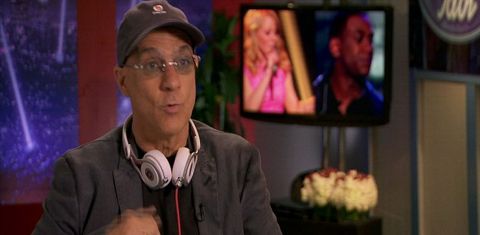 After Thursday's elimination on American Idol 2012 Jimmy Iovine took a few minutes to talk with FOX. Jimmy explained what the Top 4 need to do if they want to make it on to the big season finale in a few more weeks.
First up is Phillip Phillips. Jimmy advises Phillip to "pick a song that isn't reminiscent of anything he's done so far. It could still be something that he feels and feels comfortable with, but it's got to be closer to where he's going to go with his solo career."
Jessica Sanchez is told to "stay young, heartfelt, and fun. She can't go too old with these records or it's going to hurt her. And that dress last night [shakes head]. They just picked the wrong dress for her."
Jimmy thinks Wednesday night was "a miracle for [Hollie Cavanagh]." He worries that she isn't coming on "strong enough," but he believes she's "coming on quick and she's doing really well."
Joshua Ledet might have the easiest task of all. Jimmy believes he'll need to "stay steady because he's doing a great job. What he did last night with "To Love Somebody" was just mind blowing."
If you were able to give advice to your favorite what would it be? These final four singers will be back on stage next Wednesday and will be one step closer to taking home the American Idol season 11 crown.