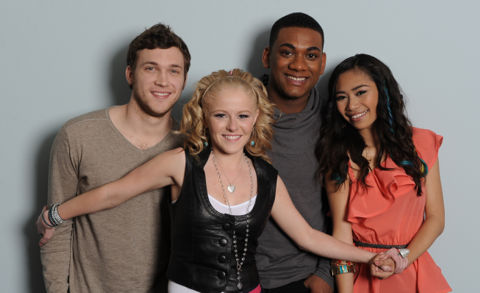 There are just four finalists left on American Idol 2012 as we're only three weeks away from the big finale event on May 23rd. Hollie Cavanagh, Joshua Ledet, Phillip Phillps, and Jessica Sanchez are all that remains of this season's singers and they're moving on to the next round in the competition.
With so few finalists left everyone is fair game which means we won't really have any more "shocking" eliminations this season. They've all reached this stage because America believes they're talented and capable of carrying the title. Hopefully the rest of them will have such an impressively positive attitude as Skylar Laine did last night after her elimination.
Next Wednesday the singers will take the stage for a "California Dreamin'" theme, whatever that might mean. Then former Idol winner David Cook will perform on Thursday along with JLo who will be doing that same song again in case watching her boyfriend grope her once this season wasn't enough for you.
Update: Nigel explains via Twitter the Top 4 will sing songs from California artists and another song that they wish they had written. Is that second one vague/broad enough for you?
Here's your American Idol 2012 Top 4:
Hollie Cavanagh
Joshua Ledet
Phillip Phillips
Jessica Sanchez
What do you think of this season's Top 4? Is your favorite still there?