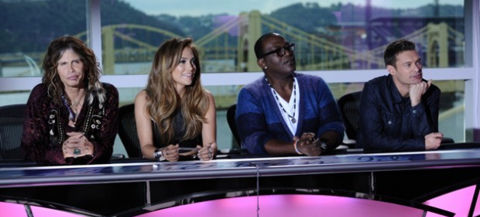 American Idol 2012 Pittsburgh callbacks were fielded last week when judges: Randy Jackson, Steven Tyler, and Jennifer Lopez, paid a visit to the Steel City for the upcoming season's auditions. Singers deemed "worthy" during the 2012 auditions were asked back to perform in front of the judges for their chance at a golden ticket.
Roughly one hundred Idol hopefuls were invited to the callbacks and many would go home empty handed, but how many left happy? No one was exactly sure though our American Idol judges confirmed they had seen maybe six singers who were Top 12 worthy. Wow, that's pushing things way down the line.
The callback auditions were split over two days with fifty singers going in front of the judges on Wednesday and another fifty on Thursday. That's got to make for a long day for the panel! Sounds like it made for feisty Hopefuls as well when Lopez told reporters there was some fighting going on when turned down singers decided they should have been giving one of those golden tickets. Should be fun to watch when the show is back in January 2012!
Watch the American Idol judges talk with reporters in the video below: