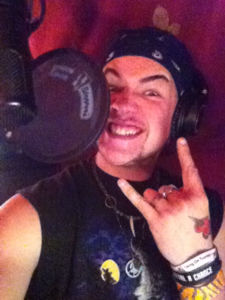 James Durbin, American Idol alumni, has been hard at work these days in both the studio and on Twitter. While he's scurrying to prep his new album, recently announced to be named "Memories Of A Beautiful Disaster
," James has also been sending out lots of interesting teasers for what we can expect when the album drops on November 21, 2011.
First Tweet up from James was the aforementioned album title along with the story behind it:
And the name of The album is…MEMORIES OF A BEAUTIFUL DISASTER! Means looking back on events in my life, to see the beauty in the pain.
Next Durbin let us know they've picked the first single from the album along w/ the cover that we're set to see soon. Then when asked by a fan if he had written the songs himself, James responded:
there's a mixture. As I was on the tour, there was only the couple weeks before it started, for me to write/co-write
Considering Durbin has been on the American Idol summer tour and a short timeline between signing a deal (early September) and releasing an album (mid November), this isn't surprising to hear that it'll be more "written for" than "written by."
Lastly, James shared a "spoiler" that his album would be an interesting mix of music:
SPOILER ALERT!!!!! The album is kind of a hybrid of Aerosmith & My Chemical Romance!
Well that sounds pretty interesting. What do you think of the details James has released so far on his upcoming album release in November? Anymore interested than you were before? Follow James on Twitter to keep getting these details.