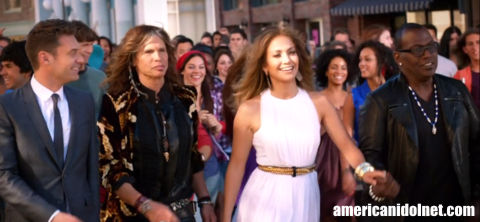 It used to be lonely at the top for American Idol, but this season has seen the usual ratings champ with some company. CBS' "Big Bang Theory" managed to beat out Fox's reality show on Thursday in the coveted 18-49 year old demographic with a 5.5 to 4.9 rating. Idol still managed to pull in a healthy 17.4 million viewers that night, so there's nothing to cry about, Nigel.
Comparison-wise, things looked worse on Wednesday for American Idol 2012. The second Wednesday's audition show tumbled 13.5% from the previous Wednesday's airing, but keep in mind that was the season premiere. The bad part is when comparing the same "second Wednesday" episode this season to last season. In that case, Idol fell 30% in the ratings from a year ago. Ouch. Either way, American Idol brought in 19.6 million viewers on Wednesday night which is mighty impressive and nothing to complain about.
While ratings might be down from week to week and even year to year there isn't anything to fear. If Idol 2012 can keep on drawing nearly 20 million viewers then it'll keep earning that ad revenue and we'll get to keep watching.
Source: TV By the Numbers