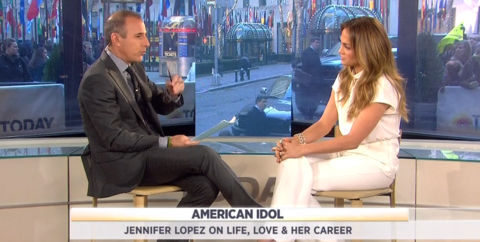 Jennifer Lopez visited the Today Show this morning and talked about her return to American Idol with host Matt Lauer.
Keeping the diva perception alive JLo starts things off by complaining that the last time she visited Matt Lauer had to cover a bigger story instead. That's kind of like when she complained on GMA that the day's bigger story was eight time Olympic gold medalist Michael Phelps instead of her interview about exercising.
Anyway, Lauer touches on her slow American Idol 2012 contract negotiations where she finally agreed to come back for $20 million, her new show "The Chosen," and even her personal life. Watch the video below to see all the fun, including a little assault on Lauer for asking about her divorce.