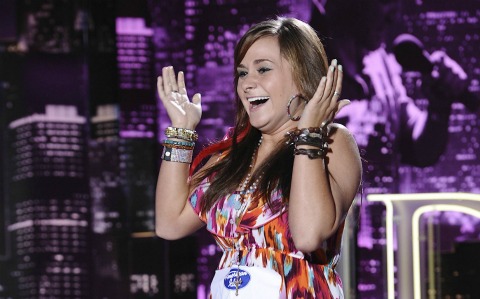 Skylar Laine was eliminated from American Idol 2012 last week which launched her tour through the media circuit. You can watch her performances and interviews from The Today Show, Anderson, Access Hollywood, and Live! With Kelly.
Skylar Laine also stopped by the Access Hollywood studio to perform Kellie Pickler's "Didn't You Know How Much I Loved You."
Anderson Cooper also invited Skylar to sit down for his show and discuss her elimination and experience on the show. Here's the first clip from that segment on "Anderson."
In a repeat performance of "Didn't You Know How Much I Loved You" Skylar visited "Live! With Kelly" on Monday. It's funny that each week Kelly Ripa is shocked, just shocked I tell you, that another singer was voted off and it's always a terrible mistake for it to have happened. Has no one explained to Ms. Ripa how American Idol works?
Skylar Laine might not be part of tonight's American Idol Top 4 performances, but you'll still have another chance to see her on the Idol summer tour and again in her career after that.