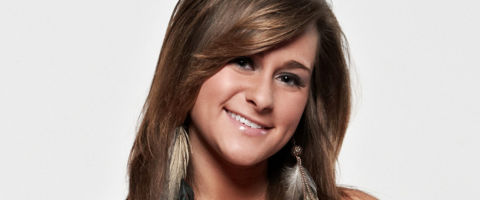 Last night on American Idol 2012, Country singer Skylar Laine was eliminated from the competition in fifth place. While that might be disappointing for her fans she's completely relaxed with that outcome.
"I'm actually very relieved. No more stress. No more, 'Oh what song should I sing?" I'm just really happy that I made it this far, you know. It's a blessing and I hope that I have a Country career in front of me," Skylar told FOX last night shortly after the Top 5 results were revealed. Now that's a refreshingly positive perspective on what could be a very frustrating experience for any of the singers.
When asked for her thoughts on the support she received from America in making it this far Skylar responded, "It's amazing to know America has reacted in the way they have and I've made it to the Top 5. Fifth in American Idol? I couldn't ask for more than that."
Skylar didn't name a favorite for who would take home the crown, but she did say that she's "happy for whoever wins and I hope they have a long career and I have a long career." Give this girl an award for the best Idol attitude of the season!
Watch Skylar Laine's full interview from last night after American Idol.