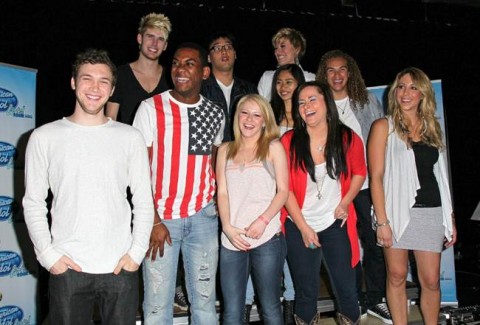 The American Idol 2012 Top 10 are two weeks from embarking on their Idols Live! Tour and the group gathered in Los Angeles yesterday for the tour press junket.
During the press conference, the Top 10, minus Phillip Phillips (he was at the event, but didn't perform because he's not as rehearsed as the others following his surgery) gave a sneak listen to one of the numbers they'll be performing throughout the summer, "What Makes You Beautiful" by One Republic. We've got that below, thanks to MJ's.
It sounds like the group just teased a lot of what to expect during the show, with very little absolute details. According to MJ's, Jessica Sanchez will be revealing a different side of herself, perhaps the real her, during the show. Elise Testone hints that maybe she'll be doing "Whole Lotta Love." Skyler Laine will be doing two solos. Find out more details at MJ's.