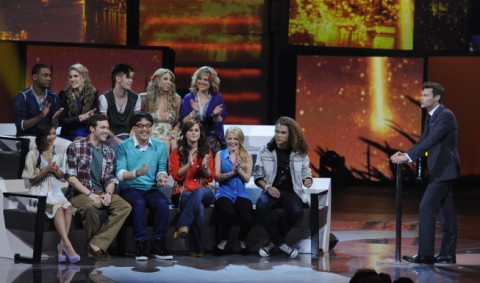 It was revealed Thursday night that the American Idol 2012 judges will once again be able play the judges' save card, but that did not stop one more contestant leaving the show this week.
Before we get to the elimination, let's back up to the top of show. Tommy Hilfiger fills a good ten minutes of time telling us he's going to make Phillip Phillips stop dressing in Old Navy flannel and stop allowing Hollie Cavanagh to dress like a 60 year old politician's wife.
Next up we get our weekly American Idol Ford Music video and a visit from the ghost of Jermaine Jones. Literally.
Ryan finally starts building one of the most predictable Bottom 3s in recent history. Called up to center stage were Phillip Phillips, Skylar Laine, Elise Testone and Joshua Ledet. We're apparently supposed to be shocked that of those four only Elise is in the Bottom 3. I wasn't shocked at all. I called that in my Wednesday night recap.
Following those results, something called a Demi Lovato takes the stage and I play Words with Friends. Ryan returns to the screen to continue proving me right with my predictions from the other night.
Taking the stage were Colton Dixon, Shannon Magrane, Deandre Brackensick and Jessica Sanchez. Gee. I wonder who's going to be in the Bottom 3 in this group? Shannon joins Elise on the Bottom 3 stools.
Daughtry sings a song and I take a nap.
Before we get to the rest of the results, I have to say I kind of like Jimmy's recaps. And I love someone FINALLY calling out judge Randy Jackson's constant contradictions. Yes please.
The final three contestants are Erika Van Pelt, Heejun Han and Hollie Cavanagh. I think we're supposed to think Heejun is in the bottom. But I know better. Heejun and Hollie are safe. Erika is not.
So your Bottom 3 is Erika, Shannon and Elise. Just as I predicted. It's immediately clear that the judges would ONLY save Elise of these three. And since she's immediately sent to safety by Ryan, Shannon and Erika are doomed.
Ryan tells us that Erika will join the summer tour this summer (right before it gets canceled) and Shannon has to sing for her life. And the moment she started singing the SAME song she butchered the night before, her fate was obvious. WHY would you not sing your best song in that moment? I know they can. They can perform any song they've previously performed. And she chose that song again? She kind of asked for the elimination.
The judges saved their save and Shannon says goodbye set to Scotty McCreery's horrible farewell song.
What are your thoughts on the results show?