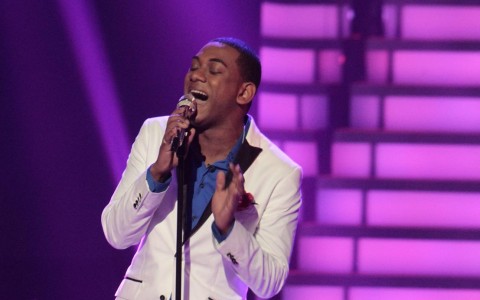 Not even an American Idol 2012 contestant's disqualification could save Wednesday night's performance show.
I've been watching American Idol for about seven years and have been writing about it for three, and in all that time, I think Wednesday night's show will go down in history as the one with the worst song choices ever.
I don't even care that there was some added drama with Jermaine Jones' disqualification. The real crimes were the song choices – eight or nine of them to be exact. Terrible, terrible song choices.
On to the recap. As always, I'll review each performance and assign the letter grade I think each deserves.
In order of performance
Phillip Phillips, "Hard to Handle." The first bad song choice of the night. BUT surprisingly, Phillip turned it out. He's just such a natural that he can take anything and make it his own. And he did it again. And fresh off surgery! He's a star. Plain and simple. (A)
Jessica Sanchez, "Turn The Beat Around." Someone didn't live up to her showstopping performance last week… and it all started with that tacky song choice. The only thing tackier than the original song was Gloria Estefan's remake. And that's the one Jessica technically covered. Lame. Of course Jessica is a great singer. But she doesn't seem to have the power to sing absolutely anything she wants. She had a couple of weak moments. But it's OK. America already loves her. And what I think doesn't count, so go easy on the death threats when you see her grade. (B-)
Heejun Han, "Right Here Waiting." Speaking of death threats, really go easy on me when you see his grade. First of all, Richard Marx? Really? He just out-lamed Jessica's song choice. And aside from that, I just don't believe Heejun when he sings. It's like he's playing a part or imitating someone. It's hard to explain. It just seems kind of fake. And sure he's funny, but this isn't "Last Comic Standing." Even the judges are starting to realize he never should've made it into the Top 24 (*cough* Johnny Keyser was robbed *cough*). (D)
Elise Testone, "Let's Stay Togeter." She was born in 1983 and she picks a remake. There will be PLENTY of chances to sing 50 year old songs on American Idol. Those make up about 80 percent of the themes each week. Why couldn't she have picked an actual song from 1983? That being said, she handled the song perfectly fine minus a couple shrieky moments. (B)
Deandre Brackensick, "Endless Love." I got excited when I thought he might be doing both parts of this song, but I was disappointed when he only did Mariah's part. I'm kidding! He did a fine job. I was just bored. Which is the theme of the night. Again, with the remakes. (B-)
Shannon Magrane, "One Sweet Day." Finally, a song that doesn't suck. Of course she's the last person I'd pick to sing Mariah since she doesn't have much of an upper range, but whatev. I was OK with the performance. I didn't love the run at the end that the judges thought was mind-blowing, but that's OK too. (B)
Colton Dixon, "Broken Heart." No one on the planet has heard of this song, but I think at this rate, that's perfectly fine. I still think he should have done "Wicked Game" by Chris Isaac, but what do I know. Nothing! He did his thing with this song, and luckily, his thing is pretty damn good. Colton, right now, is unstoppable. Hopefully on their little date, Chris Daughtry advised him to get kicked off the show in 4th place if he wants a post-Idol career. (A)
Erika Van Pelt, "Heaven." Bryan Adams. Seriously? Ugh. Is Pat Benatar music banned from Idol? Why did she pick this song? She ended up making it her own and I enjoy her voice every time she sings. But I still think there was a better song out there for her. (B+)
Skylar Laine, "Love Sneaking Up On You." I think that's some Bonnie Raitt song I made fun of at a middle school dance, but I'm not sure. (Broken record alert) It wasn't the best song for her, but she did her thing and did it well. (A)
Joshua Ledet, "When A Man Loves a Woman." Another TERRIBLE song choice! Another remake! Ugh! I think Joshua is an amazing singer, but I was not tearing off my own skin and jumping out of windows like the judges were. "The best thing ever on Idol," JLo? Did you really make that VERY bold statement? OK. If you say so. I guess I better give the guy an A or I'll have holy water thrown on me. (A)
Hollie Cavanagh, "Power of Love." OK, so this was another remake (did you know Air Supply did this song before Celine Dion? Don't even ask why I knew that). But I was OK with that. Most people think it's a Celine original, so I'll give it a pass. Especially since Hollie nailed it again. I won't lie and say it wasn't a little boring, but she sang the hell of it and that's all that matters. (A+)
Now comes the part of my recap where everyone gets confused and thinks I'm telling you who should be voted off the show. When I'm really just telling you who I think might be at risk based on how America MIGHT vote. It's just all for fun. I encourage you to tell me who you think might be going home as well.
100 Percent Safe: Jessica Sanchez, Phillip Phillips, Colton Dixon, Skylar Laine
Most Likely Safe: Hollie Cavanagh, Joshua Ledet, Heejun Han, Deandre Brackensick
Possibly the Bottom 3: Elise Testone, Shannon Magrane and Erika Van Pelt
Possibly Going Home: Shannon Magrane
My Thinking: I think there's a possibility that Heejun could trade places in the bottom with Erika. But America might still be buying into his schtick for at least another week. I also think at this point, Shannon, Elise and Erika are all interchangable when it comes to how the votes play out. And as always, there's room for a big shake-up, so no one can be confident in their predictions.
What are your thoughts on everything?