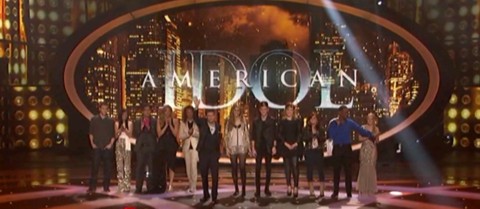 We're ready for the American Idol results for the 2012 Top 11 elimination show. Despite Jermaine Jones's untimely dismissal during last night's Top 12 performance show Ryan Seacrest has promised us that the singer with the lowest votes will be "at risk of elimination." Those seem like carefully chosen words. I'm still expecting an elimination, but I also won't be shocked if they decide to forgo the chopping block tonight and let all of the Top 11 singers through to next week.
While we wait for American Idol results, join us on Facebook and Twitter.
American Idol 2012 Top 11 – Bottom 3:
Elise Testone – Ryan reveals Elise is safe
Shannon Magrane
Erika Van Pelt – Ryan reveals Erika is safe
Now Shannon will have to sing for her life then the judges will decide if they'll use the coveted Judges Save or let Shannon go on home… Nope, no luck for Shannon. The judges won't save her and neither will production as many of us suspected would happen after Jermaine's elimination. Shannon is out of the race.
American Idol 2012 Top 11 – Elimination Result:
The singers who make it to the Top 10 this season will be on the American Idol Tour. Of course, it's still possible that there will be more than 10… Nope! Just 10.
The following singers are safe and make up your American Idol 2012 Top 10:
Joshua Ledet
Phillip Phillips
Skylar Laine
Colton Dixon
Jessica Sanchez
DeAndre Brackensick
Hollie Cavanagh
Heejun Han
Elise Testone
Erika Van Pelt
What do you think of tonight's results on American Idol 2012?