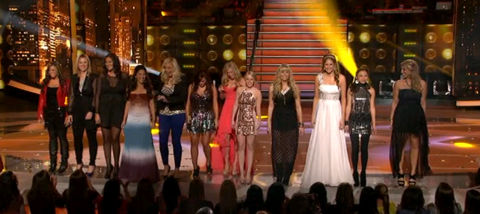 American Idol 2012 live performances continue tonight now with your season 11 Top 12 girls taking the stage. We'll soon find out which of the twelve girls will be voted on to the finalists stage by you and which singer will become a judges wildcard. Let's see how they do tonight following last night's Top 13 guys!
See what other American Idol fans are saying right now on our Idol Facebook page and join us in our Idol chat room while we review tonight's live show.
American Idol 2012 Top 12 Girls Performances:
Chelsea Sorrell – Cowboy Casanova – 1-866-436-5701
Erika Van Pelt – What About Love – 1-866-436-5702
Jen Hirsh – One and Only – 1-866-436-5703
Brielle Von Hugel – The Dock of The Bay – 1-866-436-5704
Hallie Day – Feeling Good – 1-866-436-5705
Skylar Laine – Stay With Me – 1-866-436-5706
Baylie Brown – Amazed – 1-866-436-5707
Hollie Cavanagh – Reflection – 1-866-436-5708
Haley Johnson – Sweet Dreams – 1-866-436-5709
Shannon Magrane – Go Light Your World – 1-866-436-5710
Jessica Sanchez – I Love U I Do – 1-866-436-5711
Elise Testone – One and Only – 1-866-436-5712
Vote below in our poll for your favorite American Idol female singer of the night. Share your thoughts in the comments section below!