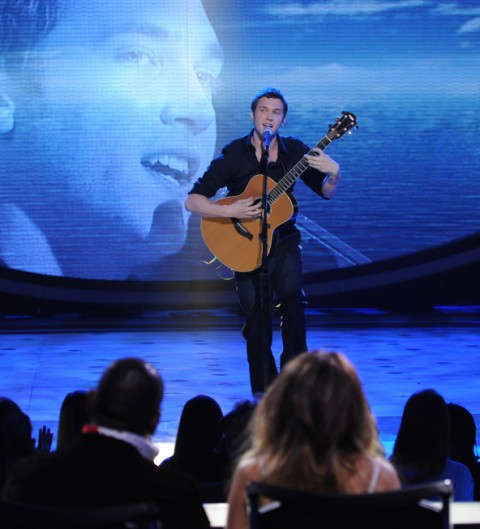 The  American Idol 2012 live voting has begun! And even though we had 13 chances to get excited, I didn't find myself doing much toe-tapping. And I certainly didn't find any goosebumps on my arm. That's because I thought the American Idol Top 13 guys kind of played it safe. Some were boring even. Not all, but some. I did discover a couple favorites. Did you?
And of course we also learned who the 13th spot went to. If you haven't heard that news yet, jump to the bottom of the page and then come right back. One with the recap.
Just like last year, I'll review each performance and I'll assign the letter grade that I think they deserve. And feel free to agree with me or let me have it in the comments below.
(In Order of Appearance)
Reed Grimm, "Moves Like Jagger." A little scat. A little drum. A lot of soul. That guy blows my mind. I think he's completely fun to watch. He's a true musician. And I love that he can't sit still. If I don't get to see more of him because he got the terrible first performance spot, I'll be totally bummed. A+
Adam Brock, "Think." This guy is clearly a good singer. But he's just not exciting enough for me and probably America. I just kept waiting for him to wow me. And he almost did at the end, but come on, you can't just save the fireworks for the end when you're in a contest. B
Deandre Brackensick, "Seasons." His smooth and soft tone transitions easily into a strong vibrato, but again, he was just a bit too boring and safe for the very first performance. B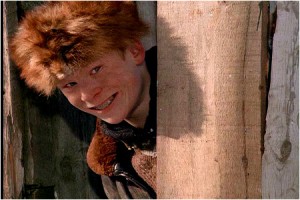 Colton Dixon, "Decode." OK a couple things. 1: I like Colton. 2. I think he needs to ditch the cookskin hat hairdo. He looks like that bully, Scut Farkas, from "A Christmas Story." Seriously. I've posted a visual aide. Anyway, his performance. I liked it. He surprised us with a nice dark, indie rocker vibe. I think he easily earned himself a spot in the Top 13.
Jeremy Rosado, "Gravity." He's a fantastic singer. He's sweet and tender. And we've seen that he appears to be an amazingly nice guy. But his performace again was not very exciting. SO many safe performances for the first night of voting. So confused.
Aaron Marcellus, "Never Can Say Goodbye." Aaron is effortless when he sings. There's a reason JLo is such a huge fan of his. But once again (broken record alert) I was not wowed. I was all ready to give him a B but he finally came through at the end and snagged an A.
Chase Likens, "Storm Warning." Finally, some upbeat sounds. Chase sure has the smile and the looks. And he has the voice. And he has the energy. But did he have the screen time up until tonight? Nope. That will likely be his downfall and it's totally American Idol producers' fault for unfair airtime. For his energy alone, I think he deserves an A.
Creighton Fraker, "True Colors." This guy is quite unique. I really got into his version of the Cyndi Lauper hit. He's so tender and effortless. A
Phillip Phillips, "In The Air Tonight." When I heard this is what he was singing, I was all "no way!" In a good way. That song is bad-ass and his version was even more bad-ass. I loved it. That's one voice that couldn't bore me no matter how slow and sleepy his song choices are. A+
Eben Frankewitz, "Set Fire to the Rain." What a cute kid. But will someone please tell me why he picked a great big Adele song like this? Ugh. I want to say nice things about his performance but I can't. So I'll just say that he's a cute kid again. C- (sorry readers, please don't kill me)
Heejun Han, "Angels." OMG HEEJUN! STOP the contest and crown him now! Ugh. I like Heejun, but I'm tired of the blown-up over-hyping already. My thoughts have nothing to do with whether or not he's a good singer. I just hate unfair pimping. Sure he's funny, in a sarcastic way. And yes he can sing. His performance tonight wasn't the best I've heard him though. But it was still good. He has nothing to worry about. He's definitley in the Top 13. A
Joshua Ledet, "You Pulled Me Through." Now THIS is a voice that deserves the kind of hype Heejun is getting for cracking jokes. Joshua nailed that song. That is how you sing in a competition. You sing like you're there to prove a point. And a point he did prove. So powerful. A+
Jermaine Jones, "Dance With My Father." The 13th spot goes to Jermaine. We all knew it. They just couldn't pass up that deep, smooth voice. I'm going to be honest here about something. I'm not used to hearing a voice like that, so I don't know exactly how I feel about it. I can tell it's good, but I don't know if I like it or not. It's kind of a weird phenomenon. So for now, I'll just say B+
So after Thursday we'll have the Top 5 guys. Then the judges will pick three wild cards. They could be guys or girls, who knows. So for now, I'm going to predict who I think will be the Top 5 guys. And remember, these picks are NOT MY OWN. They're what I think will happen based ONLY on America's votes. OK? Do you follow me? Last season some people had a hard time understanding that. And I'd love to just point that out right away this season. OK.
Top 5 Guys prediction: Heejun Han, Phillip Phillips, Colton Dixon, Joshua Ledet and Reed Grimm.
Now if the judges pick some guys to fill in the wild card choices (and I'm sure they'll at least pick one), I think it could be from these three (in this order): Creighton Fraker, Jermaine Jones and Deandre Brackensick.
I must point out that I've gone back and forth between what I think will happen with Reed and Creighton. I think their possibilities are interchangeable at the moment. At any rate, I think they both have a good chance of getting one of the judges' wild card picks.
What are your thoughts on the performances? What are your predictions?