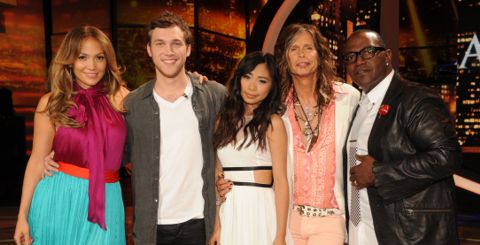 After Joshua Ledet's elimination last night on American Idol 2012 we're down to just two Hopefuls left: Phillip Phillips and Jessica Sanchez. These finalists will face off in an vocal battle next Tuesday where there can be only one!
Nigel Lythgoe has revealed Jessica and Phillip will be performing three selections: a favorite performance from earlier this season, a pick by Simon Fuller, and the single they'll release if they win the season. These performances should make for a pretty exciting final round when they hit the stage.
Fox All Access' producer Jeff Axelrod sat down with both singers last night after the American Idol 2012 results show and continued his streak of dominating the monotone interviews. They discuss the road to get to this point in the competition, what they've got left to do, and even shower each other with praise.
Just to highlight how out of touch Axelrod comes across to these two is when he opens with a reference to "hopping in the DeLorean and powering it up to 88." Jessica Sanchez was -10 years old (yes, that's negative ten years old) and Phillip was -5 when "Back to the Future" came out. But if your idea of a fun interview is lots of awkward silences and dull narration then watch it all below.