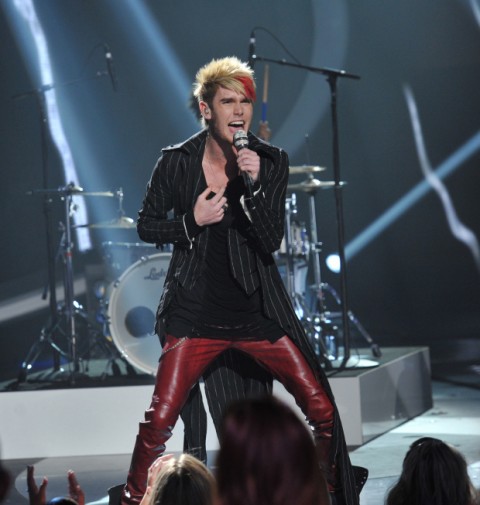 Tonight's American Idol 2012 surprised me and that's a rare occurrence. I completely expected to hate all the "Now" performances and like all the "Then" performances, but it was the complete opposite.
I thought the American Idol Top 7 did a much better job with the Adele/Gaga/Alicia Keys theme. Wait, I mean the "Now" theme. As always, I'll review each performance and assign the letter grade I think each one deserves.
Hollie Cavangah, "Rolling in the Deep." I have to start off saying what I feel like I always say these days and that's that I think all Adele songs should be banned from every singing competition show. OK, now that I got that out of my system, I'll move on. Hollie has had a really rough past couple of weeks, but she started this one off with a bang. I thought her performance of "Rolling in the Deep" was the best version of that song (any Adele song, actually) that I've ever heard on a singing competition. And trust me, I've heard A LOT. And I mean  a lot. I thought she was spot on during the whole song. And so when Randy Jackson opened his big annoying mouth, I wanted to scream. I'm not even a Hollie fan and it made me mad that he said she wasn't perfect and had pitch issues. I heard NOTHING. Shut up, Randy. A+
Colton Dixon, "Bad Romance." I fully expected to hate this performance. I wanted to hate it. But I actually kind of liked it. Tonight it was like if Billy Idol and Lady Gaga had a baby it would be Colton singing this version of this song. I thought it was one of his best. I didn't think emo band from 2002 this time, so that's a good thing. A+
Elise Testone, "No One." When Elise is on, she's REALLY on. And tonight was one of those nights. I actually felt emotional with this performance. Maybe it was the fan on her. That always chokes me up. I'm kidding. I was getting to serious in this post so I had to say something. Back to it … I think I loved this performance.  She sings with such passion and soul. And JLo is right about her smile. It lights up the stage. A+
Phillip Phillips, "You Got It Bad." When Ryan said Phillip was the one doing this song, I nearly spat out my Pepsi Next. Sorry, Idol, I was drinking the X Factor drink of choice tonight. Phillip did his Phillip thing. It was totally fine and Phillipified. I'd listen to it on the radio, yada yada. But It was just more of the same. I've been outed as a Phillip fan so I'm not expected to get bored with Phillip. But I kind of was. I kind of have been the past two weeks. I want him to do something crazy and shake things up. B
Jessica Sanchez, "Fallin." Another song I wish someone would ban from singing competitions. Plus I just hate writing words as they're incorrectly spoken like "fallin." It irritates me. So Jessica and this song. It was good. She's a great vocalist and while she has more of a connection the previous two weeks, I felt that connection lacking again. I just felt like she was bored and that made me bored. Sorry, rabid Jessica fans. That's just how I feel. Please attack me in our lovely comments section below. B-
Skylar Laine, "Born This Way." Well OK, you spunky little country diva. This one is going to have me buying cowboy boots by the end of the season if she makes it much further. I thought Skylar's country version of this song was fantastic. I feel like Skylar is always on. Always. I think she might be rivaling Elise for most under appreciated contestant. A
Joshua Ledet, "I Believe." Geez that's a lame song. You can really tell it was an "American Idol" finale song. You know how you can tell? It mentions something about finding and/or chasing a rainbow. Joshua performed as well as he always does. It got a little screechy as usually, but overall it was a good vocal. Boring? Yes. But good. B+
Round 2
Hollie, "Son of a Preacher Man." I really wanted this to be the song Elsie sang, but OK. Hollie delivered another powerful performance with her second song, but it still wasn't as good as the first. B+
Colton, "September." I'm all for making a song your own and changing things up, but this one was kind of a travesty. Colton's version was completely unrecognizable. And he was back to emo 2002 band again. Ugh. B-
Elise, "Let's Get it On." This was an interesting song choice for Elise. I was starting to hate the performance actually, but then she growled or squealed or something and from then on it only got better. She's got so much soul it's crazy. I really hope she finds some extra votes this week because she doesn't deserve to go home. A-
Phillip, "In The Midnight Hour." Phillip dropped the guitar for this one, so that means he was instantly out of his comfort zone. So, good for him. With it came a new energy. He seemed to have some of the most fun he's had on that stage. That was good to see from him. I thought it was much better than the first round. A-
Jessica, "Try a Little Tenderness." This one, for me, was a mixed bag. There were parts of the song (her runs and phrasing) that I loved. Then there were parts that I hated (her nods to Beyonce). Overall, it was better than the first performance, but again she just didn't seem to be having a good time. A-
Skylar, "Heard it Through the Grape Vine." Skylar had a couple of annoying moments during this one. I almost felt like I was watching RaeLynn on "The Voice" with the way she sang some of the words. But then she brought out the power again and made me forget about all that. B+
Joshua, "A Change is Gonna Come." Yay. We get this song every season now. Zzzzzz. Maybe 14 songs were just too many (OK, not maybe; 14 songs were too many) but I was terribly bored with this. I'm falling asleep typing this. B
Now it's time for me to make my weekly predictions. I was way off last week when producers staged Jessica's elimination Jessica got the least amount of votes, so let's see if I can redeem myself. And as always, please understand that these are predictions. They are not what I think should happen. So if someone above got an A and I predict they're in the bottom, it's only because I think that's how America's votes MIGHT play out. So don't call me stupid and go check yourself.
This is going to a tough week for predictions. Things could easily be shifting.
100 Percent Safe: Phillip Phillips, Jessica Sanchez
Most Likely Safe: Skylar Laine, Colton Dixon
Possibly the Bottom 3: Elise Testone, Joshua Ledet, Hollie Cavanagh
Possibly Going Home: Hollie
My thinking: I'll almost always put the person who got the judges' save at 100 percent safe because they always ride that wave for weeks after. So I think she'll be fine. We're getting to the point where Colton or Phillip will become a one or the other option. I'm not sure who it'll be to start slipping in the votes first, but I'm thinking it might be Colton. Because Phillip appeals to the younger and older women voters (just ask JL0). Colton is likely only popular with younger girls.
As for Skylar, she's been very strong the past couple weeks, so she should be OK for a bit longer. So it could be any of the above suggested Bottom 3 to go. I think it might be Hollie this week, but Elise's time (sadly) could be up as well. It's a very tough call. Anything could happen.
What do you think will happen? What did you think of the performances?