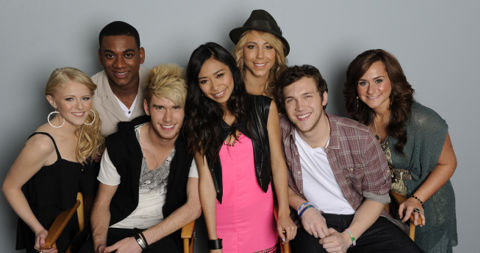 American Idol theme this week for has been revealed: Now & Then. No, not those tasty candies "Now & Later" but rather a mix of songs from "now" and then another from "then." Looks like Nigel is wising up to what audiences want to hear on American Idol, and by that I don't mean he finally started listening to our complaining but started watching The Voice and X Factor!
Since each of the returning American Idol 2012 Top 7 will be doing two songs they'll pick a #1 hit from 2000-2012 off the Billboard charts. The other song will be a "soul" selection and come from a previous decade. I'm hoping for something early 12th century. You know, something really classic.
Branden will have his list of "sing this, not that" up tomorrow for this American Idol 2012 set of finalists, but until then let's hear what you'd like to see your favorites perform this week on stage. Remember, after last week's chaos during the American Idol results show the pressure will really be on to bring it home.
Source: TV Line