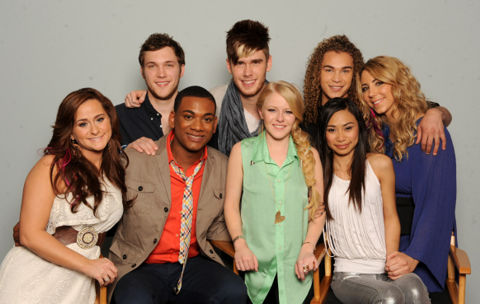 American Idol 2012 is getting serious now as we're at the Top 8, so it's time to take a closer look at who has what it takes to make it to the end.
I'm going to take a look at each of the remaining contestants and their chances of making it to the American Idol Top 3, Top 2 and the title. And these are just my thoughts, opinions and predictions. Feel free to share yours in our comments section.
Jessica Sanchez. Even though it might be a little early to say it, there's a big chance Jessica will make it to the Top 3. She has a large fan base and the judges love her. The only reason why I say it might be  a little early is because of what happened to Pia Toscano last season. Pia went home around this time after almost everyone thought she'd be going all the way to the end. And Jessica reminds me of Pia a bit as far as song choice and singing style. I think Jessica does need to connect to the audience a little more to gain a few fans who, like myself, look for a strong connection when the singers perform.
Jessica's Highest Possible Ranking: Runner-up. Sorry, folks, I still don't see a girl winning the show. It would be nice, but history has shown us who the voters are. But if any girl can win again, it could be Jessica.
Hollie Cavanagh. I think Hollie's days are numbered. I used to think she stood a chance of Top 3, but I think she and Jessica are fighting for the same voters. And I think Jessica is probably getting the edge, and will continue to do so. I feel like Hollie would've been more popular last season when she had a lot of people rooting for her. But the judges cut her at the Green Mile and this season they didn't show Hollie until Top 24. She lost a lot of early fans because of lack of airtime.
Hollie's Highest Possible Ranking: 7th place. I think she might be going home sooner than later.
DeAndre Brackensick. I think DeAndre is one contestant whose performances actually count. You know how some contestants become so popular they can have an off week and it not matter? DeAndre isn't one of those people. He stands a better chance of staying if he has a good performance and positive judges feedback.
DeAndre's Highest Possible Ranking: 8th place.  I think he and Hollie will be the next two to go. But it's hard to say in what order.
Elise Testone. Elise has been gaining momentum after the first couple weeks of being in the bottom. Her performance last week really put her on the map. She has to continue going strong though, because I'm sure there have been a lot of in-the-moment votes for her. So she's got to keep going long enough to build a real fan base. But right now, I think she's sitting pretty for a couple weeks. But I could always be wrong.
Elise's Highest Possible Ranking: 4th place. There's a chance she could pull a Haley Reinhart and make it to the Top 3, but I think 4th place is where I'm feeling her cut off to be. At best.
Skylar Laine. I'm not sure where the country voters are this year. Last year they were voting for both Scotty McCreery and Lauren Alaina, but Skylar has already found herself in the bottom 3 and we're only at the Top 8. So all my theories on Skylar are out the door. I think she might want to take Jimmy's advice and sing a song with a strong chorus and hook. She needs to have a major week this week to not return to the bottom.
Skylar's Highest Possible Ranking: 6th place.
Phillip Phillips. Phillip has a lot of fans. And the judges love him. And Jimmy loves him. I think there's little Phillip can do no wrong, but he might want to stick to familiar songs for a couple weeks, just to make sure he doesn't alienate any of his fans. But I think he's definitely in the sweet spot right now.
Phillip's Highest Possible Ranking: Winner. And please don't accuse me of being some biased teenage girl in love with Phillip (I'm a guy, for starters). This isn't my opinion or where I'd personally rank him, it's just what I'm going on right now. To be honest, I think it's time for a girl to win again. I'd love to see Elise or Jessica win this thing. But do I think that will happen? No comment.
Joshua Ledet. Joshua is a wild card right now. He's a great singer, but he's going to end up painting himself into a corner with all the gospel take on things. Just like Jacob Lusk, last season. He needs to do something unexpected. I think he is probably the best singer in the contest, but maybe not the most interesting.
Joshua's Highest Possible Ranking: 5th place. I think Elise and Joshua will go home around the same time. And depending on which one goes first, they'll get the judges' save. As long as it's by 5th place before it goes out of play.
Colton Dixon. I think Colton is going strong right now. And I'd love nothing more than to see who has more votes each week between him and Phillip. The fact that there are two guys making the girls go wild could be good for Jessica. The two guys could end up splitting the votes and pushing Jessica to the top. I think Colton will eventually annoy some people with his praise and worship songs, but by the same token, he might gain some fans others wouldn't because of those song choices. I get  a bit confused when it comes to who will outlast whom between Phillip and Colton and Jessica. At any rate, I think there's a strong chance that will be your Top 3.
Colton's Highest Possible Ranking: Runner up. RIght now I'm leaning more toward 3rd place behind Phillip and Jessica. But it could be a two-man Top 2 again.
Of course it's still early and things can chance. And I'll make another assessment when we get closer to the end. But right now this is just how I see things. How are you seeing things?