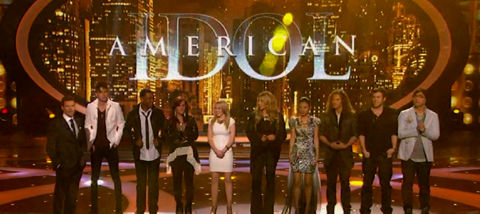 The American Idol 2012 rankings are in the for the Top 9 week so let's take a look the readers here at American Idol Net, are voting on the remaining finalists.
Jessica Sanchez led the voting again with an impressive 36% of the votes, but she was down this week 3 points while the big climber was Elise Testone. Elise's performance of "Whole Lotta Love" pulled her up from her previous high of 6% all the way to 19% of the vote. This was Elise's first journey in to the double digits range and she really need that boost. We've seen a lot of second-placers fall back down in the polls the following week so if Elise wants to maintain this momentum she'll need to come out in full force on Wednesday night.
No surprise here to see Phillip Phillips in third place again this week. This was his third time in third place as another American Idol 2012 finalist has rotated in and out of the second place spot each recent week just behind Jessica. Phillips is employing the "slow, but steady" approach to this season as he keeps earning just enough of your votes each week to stay near the top.
Colton Dixon was last week's second placer but, like the pattern I mentioned above, has fallen back down 9 points to a respectable fourth with his performance of "Everything." Not bad to go first in the show and still rank well in our poll. Joshua Ledet recovered slightly from his second-place-tumble the other week as he reached up to 6% of the vote and earned fifth place.
The bottom tier of vote earners in our poll consisted of Hollie Cavanagh, Heejun Han, DeAndre Brackensick, and Skylar Laine. Three of those four were in the actual Bottom 3 last week so once again we're showing reliable results indicators coming from your votes in our polls. Heejun might have earned more votes here than Skylar and DeAndre, but it wasn't enough to survive on American Idol 2012. The remaining singers, Hollie, DeAndre, and Skylar were each up 1 point from last week but all held steady at the bottom. I will not be surprised to see these singers remain in the danger zone unless they pull out a big performance on Wednesday.
You can see everyone's numbers from last week's performance poll below, but be sure to also read Branden's American Idol 2012 Top 8 assessment to see where he believes each of the remaining finalists stand.
American Idol 2012 Top 9 Week Poll Rankings:
Jessica Sanchez – 36% – down 3 points from last week
Elise Testone – 19% – up 13 points from last week
Phillip Phillips – 13% – down 3 points from last week
Colton Dixon – 8% – down 9 points from last week
Joshua Ledet – 6% – up 3 points from last week
Hollie Cavanagh – 4% – up 1 point from last week
Heejun Han – 4% – no change from last week – eliminated
DeAndre Brackensick – 3% – up 1 point from last week
Skylar Laine – 3% – up 1 point from last week
click image to enlarge