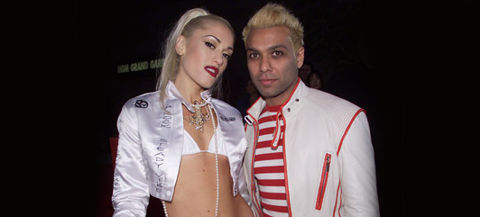 This week on American Idol 2012 Gwen Stefani returns to mentor the Top 8 finalists on their performances rather than wardrobe selection like last season. Probably a good change for the ladies, all things considered.
No Doubt's Gwen Stefani was accompanied by the band's bassist Tony Kanal on Friday when the remaining American Idol finalists met with them to practice their selections for this week's theme: 80's music. According to THR the remaining singers had a full five hours with Stefani and Kanal, giving each a little over 30 mins to refine their performances.
An 80's theme should be pretty awesome and keep things wide open since that niche isn't just your typical 80's rock, but anything from an artist during that decade where rock was definitely not the only music out there.
Once we get past the Top 8 live show on Wednesday night we'll be treated to a few special performances on Thursday. "The Wanted" will deliver "Glad You Came" live on stage while Jennifer Lopez will debut her music video for for "Dance Again." You can listen to JLo's new song now, but you won't get the full video for a few more days.
Keeping this week's American Idol 2012 theme in mind, which singer do you think will have the best pairing with the 80's?