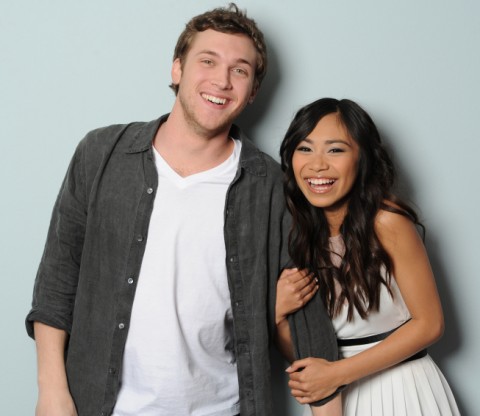 In three days we will know the winner of American Idol 2012. It seems like it was just yesterday when we first saw Jessica Sanchez and Phillip Phillips stand in front of the American Idol judges for the first time. And now here we are facing finale week.
Things are happening a bit differently this week. The finale performance show will air Tuesday night at 8 pm and the results show, where a new winner will be crowned, will air Wednesday night at 8 pm. Thursday is freed up for the two-hour premiere of So You Think You Can Dance 2012.
During Tuesday night's one-hour finale performance show, Jessica and Phillip will sing three songs each. One will be their favorite performance from earlier in the season, another will be picked by producer Simon Fuller and the final song will be the single they'll release if they win.
On Wednesday night, the grand finale will feature performances by Rhianna, Aerosmith, and reigning Idol champ Scotty McCreery. We'll also see the return of the Top 12 as they take the stage for performances. And as always, we can expect all the surprise guests. I'm crossing my fingers for Stevie Nicks to return and join Elise Testone or Phillip on stage.
Take note that the show is scheduled to run for 2 hours and 7 minutes. Set your DVRs accordingly. In fact, add about five minutes extra. American Idol finales never end on time.
It's going to be quite a week for American Idol. Don't forget to keep yourself locked in on American Idol Net and our Facebook & Twitter for all the updates, recaps and results.