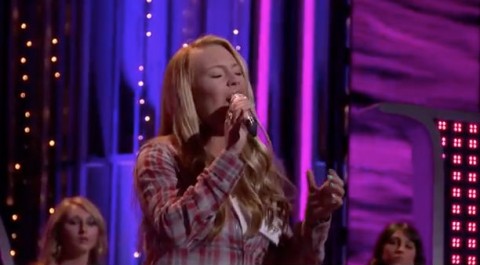 When I heard American Idol 2013 was going to split Hollywood up by gender, I knew we'd be in for a great treat when the ladies took to the stage.
American Idol is clearly on a mission to poise a female to win this season and I'm totally OK with that. It's time. And I think there's enough talent for that to happen this season. Janelle Arthur is among those very talented women fighting for that title.
Her version of Hank Williams' "I'm So Lonesome I Could Cry" was fantastic. She's got this classic country vibe about her. One minute she's got this old-school roughness about her like Tammy Wynette, then the next she's smooth and current like Carrie Underwood. This season might not only be one for the ladies, but for the COUNTRY ladies.
Below we've got Janelle's audition, so let's have another look at and listen to her version of "I'm So Lonesome I Could Cry."
Do you think Janelle Arthur has what it takes to become the first female American Idol winner since Jordin Sparks?