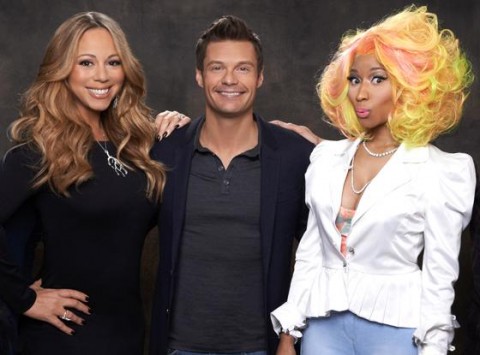 New American Idol 2013 judge Nicki Minaj has already been in a media storm after rumors that she and fellow judge Mariah Carey were not getting along. Now the hip-hop star has sat down to talk with E! about the upcoming season, Mariah and her fears and doubts about signing on to the Fox reality show.
"I'm super nervous and anxious for the first day on American Idol," Nicki says. "I'm still second guessing my decision. I'm probably going to be a hundred times guessing this decision because I'm human."
Whether or not the Mariah and Nicki fight was a real thing or was overblown has had a lot mixed answers. Even from Nicki, herself. This time around, she seemed to confirm that something had gone down.
"I think Mariah met her match this time, and I don't think she was expecting to meet her match," Nicki said.
I think it's a safe bet to say we will be into some treats with Nicki and Mariah on the judges' panel. Even if they're staged by Fox. Bring on the drama!