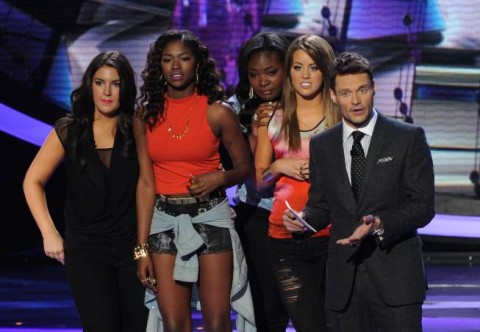 This crowd looks familiar. The American Idol 2013 Top 4 are back again after no one was eliminated in a shocking twist that everyone saw coming.
This week the Top 4 will back with another round of double performances from each of the Idol finalists. They'll be performing "now and then" songs which have been explained by TIP as "Standards and Hit Songs Of 2013." So something old and something new for you this time around.
The Top 4 will be singing for your votes starting at 8PM this Wednesday on FOX in another two-hour performance show. The lowest vote earner will be in trouble as there's no longer any Save in the way of her elimination.
Keep in mind that this week's American Idol 2013 results show on Thursday will have a little twist with it. Last week's votes will be summed with this week's results to decide the final outcome.
Who do you think will be in danger this week of elimination? Can Candice and Amber get back out of the danger zone by Thursday night? Keep watching to find out!