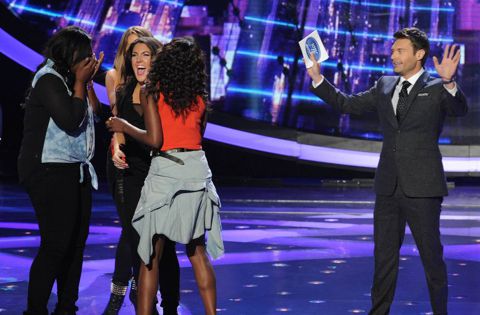 Last night on American Idol 2013 host Ryan Seacrest announced a new twist would turn the game upside down. That may have been a case of extreme exaggeration but it definitely had an impact on the American Idol results show and the week to come.
The twist was revealed to be that no one would be going home from the Top 4 competition. We had predicted that to be the case after the Judges Save came and went and then had its deadline erased. The move kept either Amber or Candice, this week's Bottom 2, in the race for at least another week.
To avoid enraging viewers who invested time and charges to send in more than 38 million votes for the Top 4 performances the twist was given another dimension. This week's votes would not be dismissed outright but rather combined with the results from next week's performance show. Things just got a lot tougher for Candice Glover and Amber Holcomb.
This week's bottom two performers will be faced with the daunting task of securing enough votes to overcome their current deficit of support and surpassing last night's top two to survive next week. In other words, Candice and Amber can't just do better than Angie and Kree next week. They'll have to do a lot better. Out of those 38 million votes, say Angie earned 10 million more than Amber this week, then next week Amber will have to blow past Angie and earn 10 million + 1 to survive. Wow.
So while we will get another week with both Candice and Amber I don't think it'll be any easy task to see them both move on to the Season 12 Top 3.
What do you think of this twist on American Idol 2013? Was it a good move or an annoying gimmick?