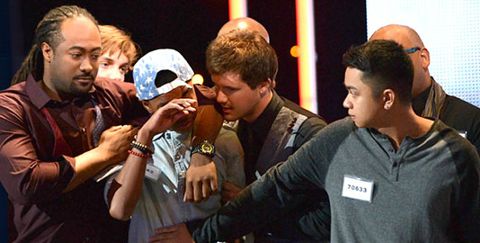 Tonight's episode of American Idol 2013 marks not only the end of Hollywood Week but also the start of Season 12's Top 40 semi-finalists. This is a big milestone in the competition and keeps us moving toward the crowning of our next American Idol.
Idol will only run one hour tonight so the ladies' final round of solo performances will be crammed in quickly before the judges can make their big reveal by the end of the show. That's a lot to get done in just sixty minutes!
All pre-season The Idol Pad has been a top source of our American Idol spoilers and I'm expecting them to be fully validated later tonight when the judges reveal their final decisions. If you can't wait to see how the results turn out then jump on over to our detailed American Idol 2013 Top 40 list complete with links to their performance.
Stick with us as we move on to the Las Vegas rounds because things should get interesting with the word that episodes will be filmed just before they go to broadcast. Could production be scrambling to prevent spoilers? I'm guessing those leakers out there are up to the challenge!
Join us on Facebook, Twitter, and by Email to get all our updates.