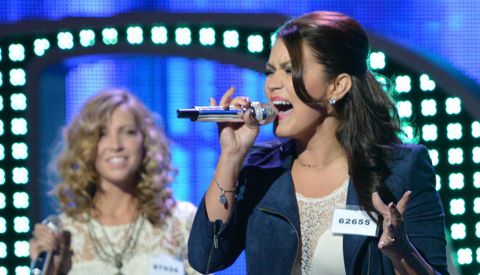 Tonight on American Idol 2013 the Season 12 performances for Hollywood Week will draw to a close and with it comes the arrival of our Top 40 singers.
We've seen the ladies perform on their own and in groups selected by production. During this final round of Hollywood we'll see them return to the solo stage and there the judges will be forced to make some tough choices.
They might not all be tough choices though. According to FOX's promo for tonight's American Idol there's going to be a standout performance and it sure looks like they're talking about Angela Miller from the video below.
It won't just be ladies' night though. Remember the guys' Top 28? Well they're going to be sent through the chipper again before joining the girls' Top 20 to form the American Idol 2013 Top 40 Hopefuls.
Join us again here tonight for another live blog recap and see if the spoilers are confirmed as we move on to the Las Vegas rounds for Season 12!