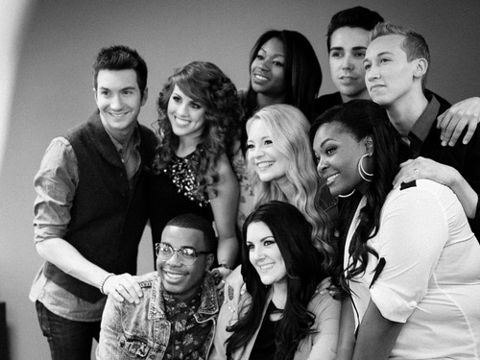 The final nine contestants on American Idol 2013 are enjoying their path to potential frame this week with another group photo shoot released by FOX.
The gang is all here as Paul, Angie, Amber, Lazaro, Devin, Janelle, Candice, Burnell, and Kree gather around to post for more promo photos before they get back to rehearsing for Wednesday's big event.
We've made our recommendations on what we'd like to hear the Top 9 sing this week, but it'll be up to them to pick from some of the most popular songs in music history this week.
Check out your favorites from American Idol 2013 in the photo gallery below and then get ready for back to back nights of Idol fun capped off by guest performances by Jessica Sanchez and Ne-Yo on Thursday night. Are you ready?
click images to see full-size
Source: American Idol news