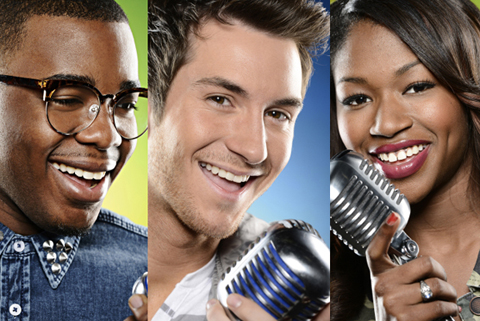 This week on American Idol 2013, the Top 9 will pick songs from the John Lennon and Paul McCartney songbook. And I'm here once again to throw up some songs that I think would suit each of the finalists.
It's all for fun (I don't really think the Idols are taking my advice, but it's fun when my choice for them matches their choice). I've got a pretty good track record going already this season, so let's see if I can keep up the momentum.
American Idol 2013 Top 9 Song Suggestions
Lazaro Arbos, Let It Be. Someone's going to sing it, so it might as well be Lazaro. Actually, it's not a great big song, so Lazaro could put a soft spin on it to suit his voice and stylings.
Janelle Arthur, Here There And Everywhere. Emmylou Harris did a version of this song that would be great for Janelle to take on. It's sweet and tender and has a nice twang to it. It would be nice for Janelle to slow things down a bit and show us some diversity in her voice.
Candice Glover, Lucy In The Sky With Diamonds. This is a perfect song for Candice. But what would be ABSOLUTELY perfect would be for her to do Natalie Cole's version of the song. Her version is like this MASSIVE explosion of amazing. I can't even explain the version, so I'll share the YouTube recording below. Just imagine how Candice could tear this up (minus all the speaking since this version is like 8 minutes long).
Kree Harrison, Yesterday. I'd love to hear this stripped down with just a little country beat and Kree's voice.
Amber Holcomb, In My Life. I haven't quite figured out what Amber is capable of yet. I think this song could give her a chance to shine in a sweet and tender way.
Paul Jolley, You've Got To Hide Your Love Away. Paul needs to do something a little more upbeat, so I think this would be perfect for him. I can imagine this with a great big band coming in during the chorus. It also lends itself to a country slant, which I think is what Paul is going for. Isn't he?
Angie Miller, Imagine. A couple of thoughts on this. This is a Lennon solo song, so it may not be available. But it has been done in the past. And my other thought is, it's been done. But I haven't heard a girl do it in a while (have I?). So I can see Angie just sitting at her piano, delivering this song like one of her own.
Burnell Taylor, Blackbird. Burnell has to has to has to has to do this song. It's absolutely PERFECT for his voice. He's got that cool, old-school song to his voice that would really work with this song.
Devin Velez, Elanor Rigby. I'm not sure this is the perfect song for Devin, but it would definitely be an adventurous one for him. And it's one of my favorites, so someone should sing it! Ha.
What do you think the American Idol 2013 Top 9 should sing from the Lennon-McCartney songbook?