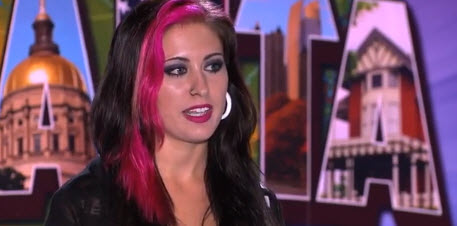 Atlanta lived up to its nickname as we were treated to some hot auditions during Thursday night's episode of American Idol 2014.
I'm really impressed that they're giving us more talent and less joke auditions. I think fans have outgrown that part of the process and I'm glad they're paying attention. So let's get to the auditions that I think stood out the most from Thursday night.
Majesty Rose, "Violet Hill." More of this girl, please. I loved her audition. It was calm and effortless then powerful and emotional. The judges loved her, too. She gets three easy yeses and heads off to Hollywood. I want more of this girl ASAP.
Jesse Cline, "Wash By The Water." I'm guilty of thinking this guy was going to be a joke audition. But only because of the way they set it up. He was actually very good. And almost as effortless as the girl before him. He was surprisingly good. The judges loved him. He's off to Hollywood.
Ben Briley, "In The Arms of A Woman." I'm not feeling this guy, but I think I'm supposed to. I mean, I don't think he's bad, but he's definitely not my favorite. Judges are into it. He's off to Hollywood.
Jordan Brisbane, "When I Was Your Man." Jordan wasn't bad. But I don't think I'd ever find myself listening to his music. But he's really young, so I think he'll be fantastic eventually. So is he ready? I'd say no, but the judges say yes. He gets a golden ticket to Hollywood.
Sam Birchfield, " Wan'na Be Like You." This audition was awesome. It was super entertaining and funny, but he's also a solid singer. Harry thinks the guy is a gimmick, but the other two are into him and push him on to Hollywood.
Jessica Meuse. She performs an original song and does so very well. She's a natural. And I don't know if that means she's a plant, but I can't imagine this is her first time trying to make it in the business. She just comes off too pro. And she reminds me a lot of Stevie Nicks so I love her. A lot.
The judges like her so she's heading to Hollywood Week.
Neco Starr, "Someone Like You." This repeat auditioner is hoping this is the time that actually works for him. His audition was pretty good. I don't remember much about him last time, but I think he's ready this time. The judges agree. He's off to Hollywood.
Bria Anai, "Your One and Only." How is this girl only 15? I don't understand who you get a voice like that at only 15. She does seem to have a few control issues, so that has to be her age showing. But she's definitely a great singer. She gets three easy yeses and heads off to Hollywood.
In the end, 44 golden tickets were given out in Atlanta. That makes the total number 163 for Hollywood Week.