American Idol 2014 contestant Sam Atherton's failed to make it to Hollywood Week after a terrible audition, but it turns out that wasn't his first time getting a downvote from a judge. Apparently the wacky American Idol season 13 contestant was actually arrested for public masturb*tion back in 2010.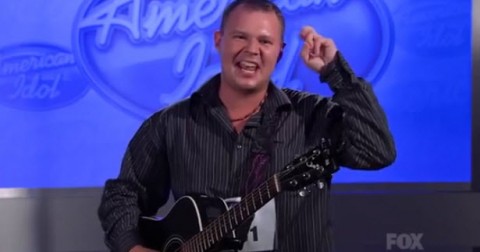 Sam Atherton had one of the few truly horrible American Idol auditions this year. He received three very well-deserved NO votes from the judges for his original song choice, "Love Doesn't Last Forever," and was sent packing. After his rejection, Sam walked through the halls laughing maniacally.
In his post-audition interview, Sam said the judges were threatened by him because he has perfect pitch and he's "probably a better musician than J-Lo, and Keith Urban, and Tony Connick Jr. [sic] combined." We'll ignore the fact that he didn't even know who Harry Connick Jr. was apparently, and say this guy was just downright delusional.
He's also a freaky and disturbing criminal, according to TMZ.com. Back in 2010, Sam Atherton was arrested and convicted for pleasuring himself inside a frozen lemonade truck, right after serving cold treats to a group of church attendees and their children. Sick!
A witness reportedly told police he saw the future American Idol 2014 contestant acting weird inside the truck, and when he confronted the guy, found him with his pants around his ankles getting busy. Sam Atherton was later convicted for two counts of lewdness and sentenced to two years of probation.
Glad this guy did NOT make it through to Hollywood Week!