The first American Idol spoilers audition we saw for season 13 was an adorably cute guy named Ethan Harris. He was featured performing in front of American Idol judges Keith Urban, Harry Connick Jr., and Jennifer Lopez in one of the first promos for the new season. Ethan auditioned in Detroit and took a risk in performing a song by one of the judges, "You'll Think of Me" by Keith Urban.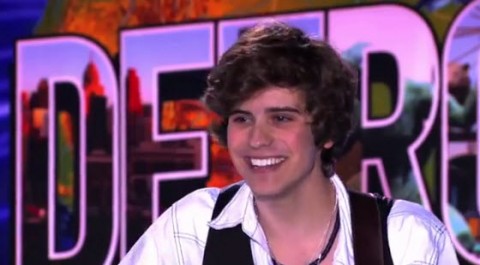 We have to totally agree that Ethan Harris reminds us quite a lot of "lost Osmond brother," as Keith said when the American Idol season 13 hopeful walked into the audition room in Detroit. Ethan wasn't annoyed at all by the joke, in fact he was pleased the judges were "laughing and having fun." The American Idol 2014 judges did indeed look like they were enjoying Ethan's performance of Keith Urban's song, and he landed three yes votes and a Golden Ticket.
If you want to know if Ethan Harris survived Hollywood Week, you can take a peek at our American Idol spoilers for the Top 31 here!