American Idol 2014 returns tonight as the judges head to the Motor City for the next round of auditions in Detroit, MI. We are hoping for a great show tonight, especially since the American Idol judges had rave reviews about the talent in Detroit!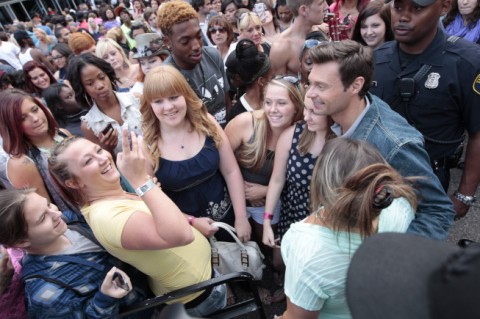 At a press conference during the Detroit auditions callbacks, American Idol season 13 judge Keith Urban said there was "lots of good talent here in Michigan." Jennifer Lopez agreed, saying she saw six people in one day that she thought could make the Top 10. Harry Connick Jr. said after seeing what the city had to offer, he thought "a couple of people are straight away Top 3" from Detroit.
We've already seen previews of several talented hopefuls from Detroit in promos for the show, including 17-year-old Marrialle Sellars (formerly known as Erica Bell). She was actually featured in the American Idol 2014 premiere episode as the very first contestant to have their audition shown on the new season. We'll be seeing more of her tonight, along with a slew of other strong contestants with great potential.
Our first singer of the night is Keri Lynn Roche, who we already know we are going to like from some of the videos we've seen of her online. She brings her guitar with her to audition for the judges and starts singing "Radioactive" by Imagine Dragons. Keith Urban wants to hear something else though and asks her to ditch the guitar and give him just her voice. Keri offers up "I'd Rather Go Blind" by Etta James and the American Idol judges are loving it. Three yes votes and we have our first Golden Ticket winner from Detroit!
Next up we have some brief audition clips from soulful crooner Julian Miller, 18; former The X Factor contestant Paris Primeu, 16; country singer Samantha Furtwengler, 18; and Olivia Diamond, 22. Of the bunch, we think Paris and Oliva deserved their Golden Tickets the most. We also think the American Idol judges made the right call in sending home Samantha.
Now we have 15-year-old Malaya Watson, who seems like she should be a lot older with that voice coming out of her! Malaya has a terrific voice and the American Idol judges are digging her big time. Jennifer tells her she has been blessed with a talent from good and she is so real and special.
We saw a preview video of country singer Bryan Watt performing for the judges in Detroit and thought he was pretty great. His audition of "So Small" by Carrie Underwood is one of our favorites so far of the night and J-Lo, Harry and Keith seem to agree. He gets an easy pass through to Hollywood.
Kristian D'avis doesn't have such a good time with her audition with her rendition of "Saving All My Love For You" by Whitney Houston. She is pitchy and looks uncomfortable performing in front of the judges. Jennifer likes her style but didn't feel the connection. Keith doesn't think she's ready yet. Harry thinks she deserves another chance at it. They give her a Golden Ticket, but we think she should have gone home. Keith is kind of pissed off that people don't listen to the critiques and advice they are getting because they are too busy freaking out.
Finally we have a bit of a rocker coming up next with 17-year-old Jena Asciutto. She tells the judges she has been in a band for most of her young live since she was 12. She sings "Rolling in the Deep" by Adele and we're liking this contestant a lot. Although, we hope she pulls out more of that rocker vibe we know she has from some of her pre-Idol performances we've seen online. It's all yes votes for Jena.
Melanie Porras, 19, talks about how she is bonded to her dad through music. She says he gave up his own dreams to take care of his family. He taught her to play guitar and inspired her. Melanie gives the American Idol judges a rendition of "Fever" and we think it's pretty damn good. Jennifer Lopez doesn't seem so impressed though and wants another song. Melanie sings "Wanted Dead or Alive" by Bon Jovi as a follow up. No surprise as she earns her Golden Ticket to Hollywood.
Um, well, it looks like the next "hopeful" is none other than Harry Connick Jr., who pretends to be auditioning for the other judges with a horrible rendition of "The Star-Spangled Banner." Needless to say, if he was a real contestant, he would NOT be going to Hollywood with that!
Our next contestant is 18-year-old Liam Newberry, who talks about being raised on Harry Connick Jr.'s music. He seems like a very sweet guy. He and Harry play back and forth and we're hopeful the audition will be good. Alas, it is not. Liam's performance of "The Way You Look Tonight" is boring and flat. Liam begs for them to give him a chance, but the judges aren't feeling it and send him home with no Golden Ticket.
Jade Lathan, 20, is both fun to watch and fun to listen to, a rare enough combination. Her Amy Winehouse performance gets the judges going and they are more than ready to hand her a Golden Ticket.
Sarah Scherb, 19, is one of the better auditions of the evening in our opinion with her performance of "The Way" by Ariana Grande. She looks as good as she sounds and could be a contender. Of course, no audition is complete without these judges being weirdos, and this time it is all about Delta Airlines. All Sarah cares about, of course, is that Golden Ticket, which she happily walks away with.
We already know Sydney Arterbridge, 15, has quite a fan club out there because we've had a number of comments and messages about her on our site already. She performs "Loving You" by Minnie Ripperton for the judges and we find ourselves a little disappointed. The song just feels too old fashioned for her young voice. We think she earned a Golden Ticket, but we don't know if she'll survive Hollywood.
Now up is Maurice Townsend, and we have been looking forward to seeing this guy at the American Idol auditions. We've heard good things, but haven't seen much of him in action yet pre-season. Turns out he's really fabulous with his rendition of "So High" by John Legend. Easily one of the best guys of the night so far. And his kids are SOOOO cute when the judges let them tell dad the good news!
Moving on to day two of the Detroit auditions and we have a familiar face on our screen! David Oliver Willis actually got all the way to the Vegas rounds on season 13 before he was cut. We love this guy. He sounds even better this year with his rendition of "Too Close" by Alex Clare. The judges are all pleased, although Harry wonders how David will do without his guitar in hand. They pass him on to Hollywood, but Harry isn't sure he'll make it to the end.
Now we have another set of twins for the season with Karlita and Rakita Gulledge. We knew they were trouble when they walked in. They think they are naturally gifted but they are actually quite terrible and butcher "Listen" by Beyonce. The judges are so not happy. Harry thinks they sounded like they were screaming. Jennifer says it was like a bad high school talent show. No Golden Tickets here!
Brandy Neelly is a face you might remember, since she has previously auditioned for American Idol several times. We've always kind of liked this peppy girl, even if we agree with the judges that her voice has a slightly unpleasant nasally sound. She gets through to Hollywood anyway, and we wish her all the luck.
Ah, now we have the very first audition we saw in the American Idol season 13 promos! It's "lost Osmond brother" Ethan Harris. Ethan loves Keith Urban and even drew him a picture to sign. Too cute! The judges all seem to think he is both adorable and pleasing to the ears. We think he is quirky and adorable, but not going to win this show. He earns a Golden Ticket to Hollywood with three yes votes.
We have another round of audition flashes and we'll try to catch all the names! Leah Guerroro, 21; Zach Day, 19; and Symphony Howlett, 19. All earn Golden Tickets to Hollywood from the judges.
Finally we slow down again for Ayla Stackhouse's audition of "Wings" by Little Mix. She has a great voice and it's a fab song choice for her vocals. The judges all think she's a star and she could be a strong competitor as the season progresses. She's got a Golden Ticket!
Eric Gordon, 27, is one of those singers that you really like because he has talent and a certain it factor, but you just know he'll never win. A little sad, but we look forward to hopefully hearing more from him before he gets cut, probably during the Hollywood group round if we're going to hazard a guess.
Next in front of the judges is 25-year-old Xavier Calvillo with "Have You Ever Seen the Rain?" While the audition isn't terrible, it's not stellar either. The judges decide it just wasn't good enough for them and send Xavier packing.
Ryan Nisbett, 24, impresses the judges with his style and his vocals on "Angel" by Sarah McLachlan. Plus, he has a whole story to go with the package about being over 300lbs when he was 21 and deciding to get healthy. He admits he could be considered a "hipster" but says he just wants to do his own thing. The judges give him an easy three yes votes and a Golden Ticket.
We close tonight with the audition that opened the American Idol 2014 season premiere last week, Marrialle Sellars. We aren't sure why producers felt they had to show Marrialle last week right before the Boston auditions when she was from the Detroit auditions, but whatever. Regardless, Marrialle gives a strong audition with "Grenade" by Bruno Mars and earns her Golden Ticket from the judges. Well, two of them actually. One ripped in three pieces (one piece from each judge) and one whole one for good measure.
We had 40 Golden Ticket winners from Detroit in total, bringing us up to 119 for season 13 so far. Whew! If you want to learn more about all the Golden Ticket winners so far, visit our constantly updated Hollywood Week contestants page!
That's a wrap for tonight's auditions! Stay tuned for our next live recap tomorrow night from the Atlanta, GA auditions.