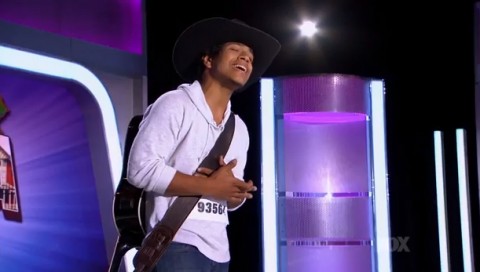 On Thursday night's American Idol 2014 Chris Medina scored a golden ticket to Hollywood after performing Adele's "Chasing Pavement" for the Idol judges. But how far does Chris Medina make in on American Idol Season 13? Read on to find out.
I thought his performance was pretty decent, but I was more interested in his dog if I'm being honest. I don't remember ever seeing a dog come along for an audition, so I will say it was definitely a memorable one, but was the talent there? The judges thought so for now, but how far does it go? Looks like Hollywood might be the end of the road for him.
According to our American Idol XIII spoilers, Chris Medina does not make it to the Top 31. What do you think of that? Did you have high hopes for Chris to make it to the live shows and beyond? This season is filled with heavy talent, so we're going to see a lot of people get cut that probably shouldn't be.
Chris Medina Auditions For American Idol 2014