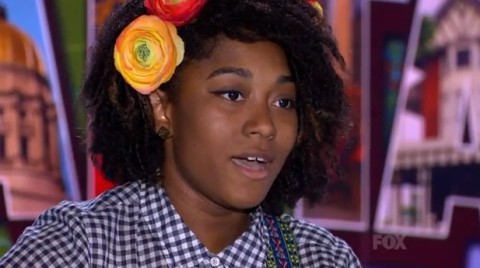 Majesty York, or Majesty Rose as she called herself, charmed the heck out of the judges (and me) during Thursday night's American Idol 2014 auditions in Atlanta. But how far does Majesty make it on American Idol Season 13? Read on to find out.
Her version of "Violet Hill" was effortless, powerful and emotional. She's definitely one of my favorite contestants so far so I hope I'm not giving her any bad luck. Ha. But according to our American Idol spoilers, my ability to cause contestants bad luck might be changing this season because Majesty York makes it to the American Idol XIII Top 31.
What happens after that will depend on how her supporters come out and how she brands herself to draw in new fans. What do you think of Majesty? Do you think she should be in the Top 31? Do you see her going far this season? Time will tell, but let us know your thoughts!
Majesty York Auditions on American Idol 2014