Looking to see how far Kenzie Hall makes it on American Idol 2014? Here are the spoiler previews for her upcoming audition in Salt Lake City this week.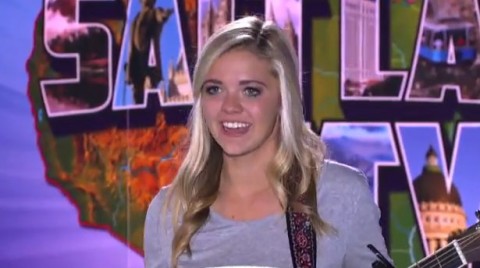 Kenzie Hall impressed the American Idol 2014 judges during the Salt Lake City auditions (you'll see those air this week) with her guitar-strapped version of John Mayer's "I'm Going to Find Another You."
Keith Urban even gave her a few of his crazy "I'm digging this looks" as you can see in the preview of her audition below.
As you'll see this week, she does get her golden ticket to Hollywood, but just how far does she go on American Idol XIII? According to our American Idol 2014 spoilers, Kenzie Hall makes it into the Season 13 Top 31. So you will see more of her, but how much will be up to you, the public.
Do you think Kenzie Hall will go beyond the Top 31? If so, how far do you see her going? Do you plan on supporting her? Share your thoughts with us in our comments section below.
Kenzie Hall Auditions on American Idol 2014