Previous American Idol spoilers revealed that producers are refreshing and updating the song list for season 13. Fans have been begging for years for the show to give the singers a wider variety of choices, especially of more modern day hits. Well, we have been lucky enough to get our hands on a copy of the American idol 2014 spoilers for the Hollywood Week round 1 approved song list and we're happy to say, it looks like they finally listened!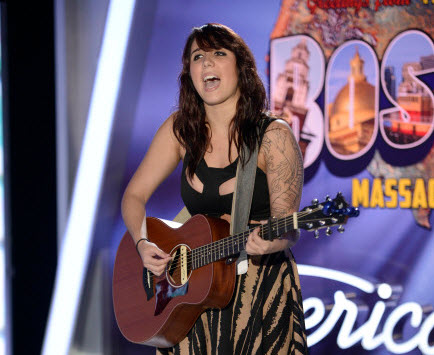 This weekend, we got a tiny,
exclusive sneak peek
at what some of the
American Idol season 13
hopefuls will be singing during Hollywood Week. We were impressed to see that in the a capella round, the contestants were given the opportunity to perform a lot songs you could tune into the radio right now and hear on a Top 40 station. Or you might have even heard clips of at the 2014 Grammy Awards this past Sunday. It's about time the
American Idol
song list wasn't ninety percent composed of songs from over a decade ago!
Some of the specific recent hit selections performed by contestants during the a cappella round in Hollywood Week include:"1, 2, 3, 4″ by Fiest (Majesty Rose York), "Say Something" by Ian Axel (Spencer Lloyd), "Scream and Shout" by will.i.am and Britney Spears (Alex Preston), and "Can't Hold Us" by Macklemore & Ryan Lewis feat. Ray Dalton (Kenzie Hall).
Scanning over the full Hollywood Week American Idol 2014 song list leaked by The Idol Pad, we see a LOT more modern selections of all varieties, from top Billboard chart makers over the past few years to more obscure, cult-hit songs from more indie/less mainstream musicians. There are still plenty of classic songs on the list too, but the selection of modern-era music has been expanded and ramped up.
The American Idol spoilers list of approved songs is far too long for us to print here. However, you can download a copy of the full selection in PDF form here if you're curious to see what songs the contestants will have to choose from. Interestingly, there are quite a lot of songs available from judges on competing shows The Voice and The X Factor, along with plenty from past Idol contestants as well. Oh, and of course, all of the current American Idol judges have songs up for offer as well. Here's just small sampling of more modern day artists on the list:
2am Club
3OH!3
Adam Lambert 
Adele
Ariana Grande
AWOLNATION
Beyonce
Big & Rich
Blake Shelton
Blur
Brad Paisley
Britney Spears
Bruno Mars
Carrie Underwood 
CeCe Peniston
Christina Aguilera
Ciara
Civil Wars
Colton Dixon
Damien Rice
Daughtry
David Cook
David Guetta
Demi Lovato
Drake
Edwin McCain
Evanescence
Fall Out Boy
Feist
Fergie
Flo Rida
Florence and The Machine
Gwen Stefani
Harry Connick Jr.
Hunter Hayes
Imagine Dragons
Jason Mraz
Jennifer Lopez
Keith Urban
John Legend