We caught our first glimpse of seventeen year old American Idol 2014 contestant Kenzie Hall in a promo video for season 13, along with fellow hopefuls Ethan Harris and Marrielle Sellars. We only got a tiny peek at her with her guitar during a funny bit with the American Idol judges, but it was enough to fuel our search in finding more about this singer with big dreams in her heart. Now she's made it all the way to the Top 30 and we hope she'll be sticking around for a while.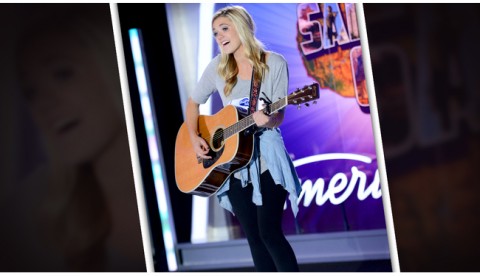 American Idol Kenzie Hall Audition:
Road to Hollywood:
Background:
Kenzie apparently made quite the impression on the judges, with Jennifer Lopez telling her she has "everything going on" and Harry Connick Jr. complimenting her on her guitar skills as well as her vocals. Here is a video from YouTube of her performing the same song she did for the judges.
Back home in Salt Lake City, Kenzie Hall is frequently seen playing around town and she recently put out a five-song EP called Hands On, which was recorded last summer and is currently available on iTunes. It wasn't her idea to audition, however. She says it was actually her mom who surprised her by waking her up and dragging her off to try out as a surprise.
Kenzie, who currently attends Alta High School, seems to be quite the personality if her Twitter and Facebook accounts are any indication. When we first found her Twitter, she had a wacky picture of actor Morgan Freeman making faces as her background image and the caption "music is like my homeboy" as her tagline. She had also just posted a pic of a cute boy with the note, "How'd I get so lucky with this goober?" — which leads us to think he might be her adorable boyfriend?
We gather that Kenzie may be a Mormon since she recently retweeted a post from @MissionaryLDS about how to get a "free copy of The Book of Mormon." Or maybe she just likes to promote religion of all varieties, who knows? We do know, thanks to Facebook, she is a definite fan of The University of Utah Athletics and The Pittsburg Steelers. Among the people she lists as "inspirational," Kenzie has tagged her mom, her dad, and Oprah Winfrey.
Kenzie's musical tastes are all over the map, according to her Facebook likes. Some of the artists she's a fan of include Imagine Dragons, The Ramones, Etta James, Aerosmith, Pentatonix, The Beatles, Weezer, and Bob Marley. Her taste in movies is equally as varied, including films like Drag Me to Hell, The Avengers, Star Wars, The Descent, and Moulin Rouge. We also see she is a reality TV lover, listing So You Think You Can Dance, Dancing With the Stars, and America's Next Top Model among her favorite TV shows. Also, and we love this, Kenzie is apparently a gamer girl as well, with an obvious love of Magic: The Gathering, Resident Evil, and various tabletop RPG games.
Listen to more of Kenzie Hall on her YouTube channel.