We have some new & exclusive American Idol 2014 spoilers from Hollywood Week to share with you today! In addition to our previously posted extensive list of Hollywood Week contestants, we now have our greedy little hands on American Idol spoilers for what some of them will be singing for the judges!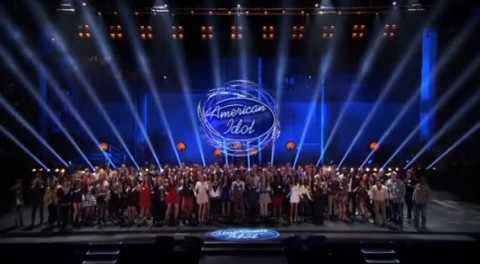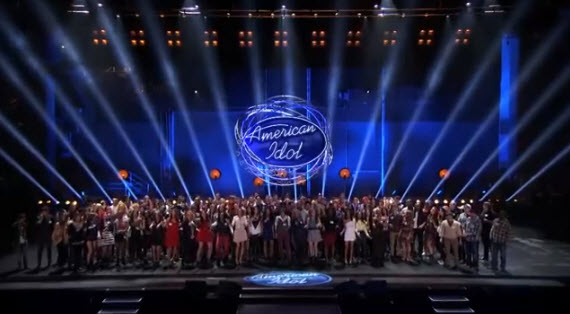 American Idol Hollywood Week will be just a little different this year, with the addition of a new round right up front called "Hollywood or Home." Before the contestants even get a chance to settle in, some of the Golden Ticket winners will have to perform for the American Idol judges yet again. If they aren't pleased with what they hear, the hopeful will have to turn right around and go home.
That will be round one of Hollywood Week for season 13 and will air on February 5th. Then we will go back to our usual schedule with the remaining hopefuls performing solo a cappella songs for the judges first, followed by the group round, and then final solo performances for those who have survived up until then. Get the full scoop in our American Idol schedule for Hollywood Week.
Thanks to our awesome friends at The Idol Pad,  the number one American Idol spoilers source, we are delighted to be able to bring you an exclusive sneak peek at what some of the Hollywood Week contestants will be singing in the a cappella round. We also have some videos of a couple of the contestants in our early bird sneak peek singing the same songs for your listening pleasure.
Majesty Rose York – We saw this young lady in the Atlanta, GA auditions and she has already garnered a lot of support in social media. For her a cappella song, she will be performing ""1, 2, 3, 4" by Feist. You can hear a bit of her singing this song at the end of her recent interview with WRAL.com.
American Idol 2014 hopeful Majesty York talks about auditioning for the show. http://t.co/WKtt0wsSwE #americanidol #idol

— American Idol Net (@americanidolnet) January 26, 2014
Here's another clip from Majesty of her doing "Flags" with guitar:
Spencer Lloyd – With his clean-cut good looks and smooth voice, Spencer, who auditioned in Austin, TX, is already those favorite hopefuls many think might make it to the Top 10. For his a cappella performance, Spencer chose  "Say Something" by  Ian Axel. Here's a brief clip of him singing the same song in a YouTube video.
C. J. Harris – We haven't seen C. J. yet on American Idol season 13 but we hear he will be one of the hot contestants to watch during Hollywood Week. He will be singing "Trouble" by Ray LaMontagne for the judges in his a cappella round. We could not find a clip of him singing this song, but here's one of him doing "Saving Amy" by Brantley Gilbert.
This is just a very tiny taste of a much larger spoilers leak that will be making its way to us over the next few days. Just a nibble really of a "ginormous song list," according to The Idol Pad, along with "tons of song options for each round of HW, song choices, who was grouped with who, who played instruments, who did original songs, who got standing ovations, etc."
Want an even bigger bite of song choice spoilers from Hollywood Week? Visit our friends over at Rickey.org to find out what Alex Preston, Kenzie Hall, and Savion Wright will be singing in the a capella round. And then hop on over to MJsBigBlog for spoilers on what Jordan Brisbane, Caleb Johnson, and Emily Piriz will be performing in the final solo round.
So stay tuned for much, much more in our American Idol 2014 spoilers coverage for season 13 coming soon!