We have the American Idol spoilers for Season 13's Top 9 song list choices and it looks like we could have a great night of performances ahead of us.
* UPDATE: Click here to join our LIVE American Idol recap and chat going on right now!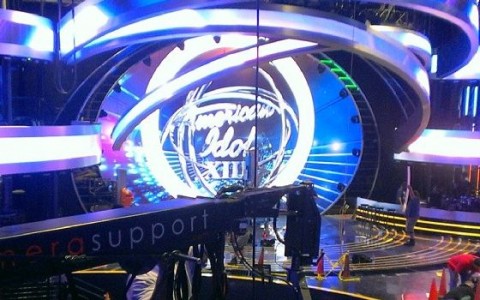 Thanks again to the folks at The Idol Pad, we have the spoilers and know what each of the Top 9 contestants will be performing on the stage tonight for Idol. We need a strong week of showings after last week's mixed bag that left us scratching our heads at not just some of the picks but their deliveries as well.
If you missed the American Idol spoilers on this week's theme they'll be doing "I'm With The Band" which isn't so much a theme as it is an invitation to them for a free range song selection. The finalists more used to performing as a lead singer are likely to be more comfortable up there, but really after this much time working with the American Idol band you'd think they'd be ready to go on this. Let's hope so!
Here are the American Idol 2014 spoilers for the Top 9 contestants' song list tonight:
Jessica Meuse – "Rhiannon" by Fleetwood Mac
Majesty York – "Shake It Out" by Florence And The Machine
Caleb Johnson – "Dazed And Confused" by Jake Holmes / Led Zeppelin
Dexter Roberts – "Boondocks" by Little Big Town
Malaya Watson – "The Long And Winding Road" by The Beatles
Jena Irene – "Bring Me To Life" by Evanescence & Paul McCoy
Sam Woolf – "Hey There Delilah" by Plain White T's
CJ Harris – "If It Hadn't Been For Love" by The SteelDrivers
Alex Preston – "Don't Speak" by No Doubt
Which song picks do you like the most so far for the Top 9? Share your thoughts!