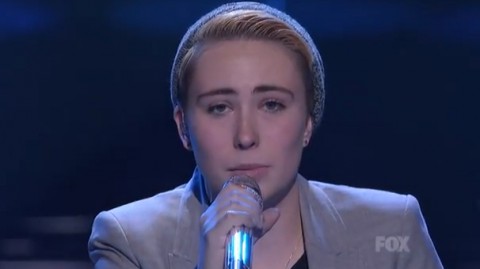 The American Idol 2014 Top 10 girls performed for America's votes Tuesday night and there were some hits and misses and some highs and lows. Most of the girls were victims of nerves as "Rush Week" found 15 of them waiting to be called to perform in only 10 spots. So we didn't get a real look and listen to what some of them might have in store.
Keeping all that in mind, here's how we'd rank the performances from Tuesday night:
MK Nobilette sings All of Me On American Idol 2014
1. MK Nobilette, "All of Me." MK is making a lot of headlines for all the wrong reasons. She's a great singer and that's why she's in the Top 10 and at the top of this list. She had the best performance of the night. Maybe it was the best only because everyone else fell victim to nerves. Regardless of the reason, she's in the top spot.
Malaya Watson performs Hard Times on American Idol 2014
2. Malaya Watson, "Hard Times." Malaya is a natural. She's got energy, spunk, personality and a voice that won't quit. She's easily the best performer in the competition, but she was pretty spastic during her performance and that pushed her to the No. 2 spot on this list.
Bria Ania sings Wrong Side of A Love Song on American Idol 2014
3. Bria Anai, "Wrong Side of A Love Song." Bria kind of came out of no where for me. She wasn't even on my radar until Tuesday night. And here she is coming in at No. 3.
Jessica Meuse performs Drink a Beer on American Idol 2014
4. Jessica Meuse, "Drink a Beer." I was admittedly confused that Jessica busted out a country song. She just doesn't have the look. I don't know if she was just appealing to the country fanbase or what, but it worked.
Majesty Rose sings Happy on American Idol 2014
5.  Majesty Rose, "Happy." This wasn't a great song for Majesty, but she's talented and has gotten a lot of airtime so she shouldn't be going anywhere this week.
Jena Asciutto performs Paint It Black on American Idol 2014
6. Jena Asciutto, "Paint It Black." I'm calling this as the best song choice of the night. It wasn't the best performance of the night, but I give credit where it's due. I like her energy and her edge. I hope to see more from her.
Kristen O'Connor sings Turning Tables on American Idol 2014
7. Kristen O'Connor, "Turning Tables." I'm still confused why the judges picked her over some of the others. But I'm more confused with why she picked Adele. She does not have an Adele voice and that's why she comes in on this side of the our top 5.
Brianna Oakley performs Warrior on American Idol 2014
8. Brianna Oakley, "Warrior." It'll never make sense to me why people pick these studio songs that are made for manufactured singers (also see #10 on this list). It's just not a good idea. They aren't made for singers so the performances are never worth listening to.
Emily Piriz sings Paris Ooh La La on American Idol  2014
9. Emily Piriz, "Paris Ooh La La." I'm with Harry Connick Jr. on this one. I think that's a horrible song for a young woman to be singing and on top of that it just has no substance and does not showcase a singer's voice.
Marialle Sellars sings Roar on American Idol 2014
10. Marialle Sellars, "Roar." We've seen the "I'm the next American Idol" clip from her over and over again. It's almost like producers are trying to tell us something. And actually all we heard Tuesday night was the worst performance of the night. Horrible song choice (see #8), bad vocals. Just bad.