Tonight's American Idol 2014 episode brings a new round of fresh eliminations for the Season 13 Hopefuls. Judges revealed many of the singers would be performing on the spot before even reaching Hollywood and facing fierce cuts in a new twist called "Hollywood or Home." So who went home tonight on Idol? It's time to find out!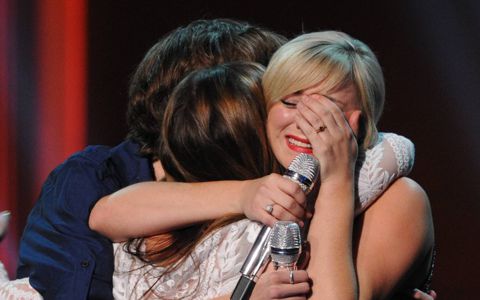 Jennifer Lopez, Keith Urban, and Harry Connick Jr. great the singers tonight and break the news to them. Actually it's Harry who delivers the bad news which definitely seems to catch them off guard.
How were tonight's "Hollywood or Home" contestants selected? Those who received only two "yes" votes back at the city auditions were move aside to this track. Three "yes" votes weren't a guaranty of safety either as some of those Hopefuls were put on the spot as well. If the judges were still impressed then the contestants were cleared to move on to the next Hollywood Week round: solos. If not, then they were immediately sent back home without a chance to even unpack their bags or step inside the Dolby Theatre. Ouch.
We're updating this post here with live results from tonight's American Idol with who performed, who went home, and who was deemed safe in the competition for at least one more day.
Once all performances were complete the rest of the singers were released and sent on to Hollywood. Those who had performed were split in to two groups. One would go to Hollywood. The other to back home. Even worse is that the judges don't even tell them to their faces. Instead the singers go to unmarked buses and will find out if they made it when their bus ends up at its destination: a Hollywood hotel or the airport.
All in all, twenty singers who had to perform were safe. The rest were eliminated tonight on American Idol. Since the judges didn't explicitly state who was safe and who was eliminated we'll make an official list as soon as we can get it complete and accurate.
Hollywood Or Home – Contestant List of Performers (identified):
Johnny Newcomb – Salt Lake City
Connor Zwetsch – Atlanta
Ali Jane Henderson – Atlanta
Caitlin Johnson – San Francisco
Adam Roth – San Francisco
Tristen Langley – Austin
Morgan Deplitch – Boston
Stephanie Petronelli – Boston
Rich LaFleur – Boston
Eric Wood – Austin
Alyssa Siebken – Omaha
Neco Starr – Atlanta
Khristian D'Avis – Detroit
Caleb Hartsfield – San Francisco
M. K. Nobilette – San Francisco
click images to see full-size
Hollywood Week – Solos – Partial List of Eliminated Contestants:
Jack Janowitz
McKenna Davis
Viviana Villalon
Samantha Calmes
Selena Moreno
Lauren Ogburn
Ayla Stackhouse
Jade Lathan
Sydney Arterbridge
Bryan Watt
Quaid Edwards