The American Idol 2015 auditions for season 14 kick off tonight in Nashville and the American Idol judges are back in rare form once again. And so are the contestants!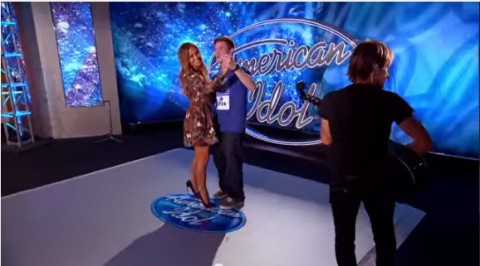 Michael Simeon landed his Golden Ticket to Hollywood at the American Idol 2015 Nashville auditions, but just grabbing a pass through to the next round wasn't quite enough for him!
After wooing the American Idol judges with his rendition of "Stay With Me" by Sam Smith, he nervously asked J-Lo if she would dance with him. She looks a little frightened and asked him what kind of dancing because "my heels are really high."
Finally Michael manages to convince her to play along and dance with him, while American Idol judges Keith Urban and Harry Connick Jr. provide the music on guitar and piano.
Amusingly enough, it was actually Jennifer Lopez who pulled the unnamed contestant in close for a real "slow-dance." She even laid her head on his shoulder while he sang his audition song again for her again. After they stop dancing, J-Lo told him it was the most fun she's had in months!