The American Idol Judges 2015 edition feature the returning, smiling faces of Jennifer Lopez, Keith Urban, and Harry Connick Jr. Yes, that's right it's our favorite recent trio panel back behind the Judges' table for 2015.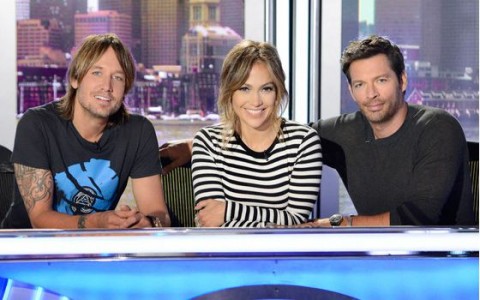 While it was suspected that Lopez would bow out from returning for Season 14 the rumors we reported back in May last season came true when FOX officially confirmed the "Dream Team" Judges panel for American Idol 2015.
David Hill, Senior Exec VP at FOX made the announcement last summer saying, "Jennifer, Keith, Harry and Ryan are the very best in the business at what they do, and I'm thrilled that they are returning to AMERICAN IDOL for another season. Each brings unique qualities and expertise to the team…"
It wouldn't be American Idol without host Ryan Seacrest returning to the role that made him famous and in turn he's helped keep famous. Introducing us to the the judges and the Idol Hopefuls each week is one of best parts of the show throughout each round whether it's the American Idol auditions or the top finalist eliminations.
Get ready to welcome back the American Idol Judges with the return of Harry, Jennifer, and Keith. We can't wait to see what talent that find for us to vote on and support this season through the big finale show!