American Idol 2015's song choices have again been spoiled, so we know which two "classic" songs each of the Top 7 will be performing. So let's break down the song choices and see who we think is going to have the best night based on song picks.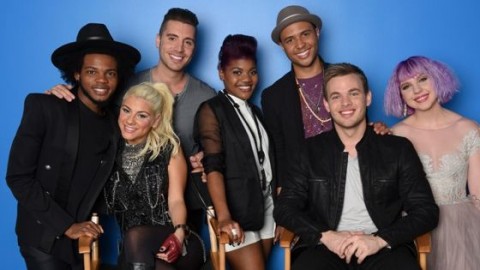 American Idol 2015 Top 7 Song Choices
Clark Beckham – "Moon River"; Stevie Wonder's "Superstition." I think these are great song choices for Clark. I like that one is subdued and the other is upbeat. And I think Clark can handle a classic song like Moon River the way it's supposed to be.
Jax – Michael Jackson's "Beat It"; Janis Joplin's "Piece of My Heart." Well, first of all, thinking of "Beat It" as a classic makes me feel really old and nauseated. But I think it will be an interesting performance. I'm really curious to see what she does with it. I also like the Janis song for her, but I hope she stays true to that one because I know she will change up "Beat It."
Joey Cook – Jefferson Airplane's "Somebody to Love"; "My Funny Valentine." I can really hear her doing "My Funny Valentine." I can hear it now. It'll be just like every other performance. As for the other song, I can't imagine her doing this song. It's really not something that would be in her comfort zone. So that probably means she'll change that into something that also resembles every other performance of hers this season.
Nick Fradiani – Billy Joel's "Only the Good Die Young"; Tom Petty's "American Girl." I LOVE the Tom Petty song choice for him. I think that's going to be a great hit for him. As for the Billy Joel song, eh…. Most upbeat Billy Joel songs are cheesy when performed by anyone other than Billy Joel.
Quentin Alexander – Lenny Kravitz's "Are You Gonna Go My Way"; Simon & Garfunkel's "The Sound of Silence." Zzzzzzz. I'm just so bored by Quentin. And these songs performed by Quentin might just put me to sleep. But I'm sure he will look the part.
Rayvon Owen – Willie Nelson's "Always on My Mind"; The Doobie Brothers' "Long Train Runnin'." Speaking of Zzzzzzz, it's almost like Rayvon expects to go home this week and picked two songs that would definitely put him in the bottom two next week even if he were to survive. These are not good song choices for him. They make no sense for him.
Tyanna Jones – Creedence Clearwater Revival's "Proud Mary"; Frankie Lymon & the Teenagers' "Why Do Fools Fall In Love." I'm guessing her "Proud Mary" will be more in the style of Tina Turner. And that makes me happy. And her other song choice is good for someone young like her. She should be able to make it young and fun.
What do you think of the song choices this week?
Oh, and before we go, I wonder who they're going to do two songs each and still have the red light/green light chair suspense? They can't follow the same format they've been doing with two songs each. Will they just have everyone perform and then reveal the bottom 2 and let Twitter save who they want? We shall see.