After Phillip Phillips name was noticeably absent from the list of American Idol winners performing at the series finale it seems that he will indeed be back to help close out the series in the grand finale this week.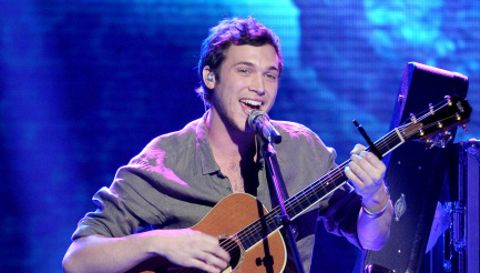 Last night at the iHeartRadio Awards show last season's American Idol winner Nick Fradiani spoke with Variety to reveal he would be performing along with a team of male winners for a David Bowie tribute. That group of performers will indeed include Phillips.
The #AmericanIdol finale will feature a David Bowie tribute, @nickfradiani reveals to @mariacavassuto #iHeartAwards https://t.co/p9gMz1cGnq

— Variety (@Variety) April 3, 2016
"We're doing like a David Bowie tribute with a couple past winners, some of the guys. So it's me, Phillip Phillips, and Kris Allen, Lee DeWyze, and David Cook. It's been just crazy sitting in a room playing guitar with those guys," said Fradiani.
Whatever contractual issues Phillips is/was having with American Idol and the label I'm glad they were able to work this out. It'd be a real shame and one I think he'd regret if he missed this chance to say goodbye to the show that made him a household name.
Don't forget this week is the three-night grand finale of American Idol with shows on Tuesday, Wednesday, and Thursday at 8/7c on FOX.
Source: @Variety via MJs Big Blog