This week on American Idol we come together for the very last time. Yes, it's the end of an era as Idol will dim its lights and drop the confetti just one more time.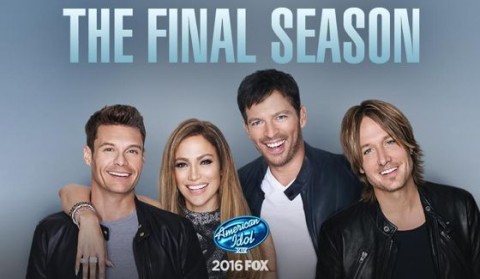 But before we can get to the confetti we've got a full week's schedule of Idol events to keep us entertained. Here's what's going on this week for the American Idol 2016 finale.
Starting on Tuesday, April 5th at 8/7c on FOX we'll get a 90-minute special, "AMERICAN IDOL: AMERICAN DREAM" that goes back through the fifteen seasons with interviews and behind the scenes looks at past and present judges, contestants, and the team that brought us Idol each week.
Wednesday night at 8/7c we'll get a one-hour performance show where Dalton Rapattoni, La'Porsha Renae, and Trent Harmon face off before the night's results are revealed and we have our Top 2 for your votes. This way all three of the contestants will perform all of their songs and no one will be awkwardly dismissed at the top of the hour.
Then on Thursday night it all comes to a close as Idol's series finale airs at 8/7c on FOX with a two-hour show that will bring back dozens of past contestants and special performances. Then at the end of the night this year's winner and the final American Idol will be crowned. Take special note that this episode is scheduled to go six minutes past 10PM so you'll need to adjust your DVRs.
Can you believe this is it? Seems just plain crazy, but here we go! Join us on Facebook, Twitter, and by Email Updates to get all the latest Idol news.